Fall Sports is Back!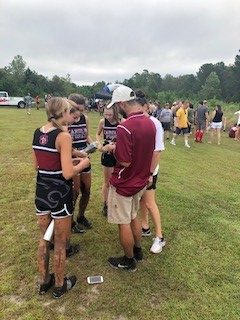 Megan Evans, Staff Writer
September 19, 2019
Now that summer is over, fall is right around the corner. Our fall sports season at Carolina Forest High School Fall sports is back and better. CFHS Fall sports include football, cross country, golf, swimming, volleyball, tennis and cheer. 
Our student body is getting back in the groove of school spirit. Students are very excited to come out to the games and cheer on and support our players and coaches. The student section, called The Black Hole,  at our games is really fun and a great way to meet new friends.
"I've been here since CFHS opened, and our school spirit has been up and down.  It's so exciting to see The Black Hole back with the enthusiasm from our students," commented Ann Twigg, one of our English teachers.
 Jesse Patrick, our cross country coach, is an alumni of CFHS and is excited for the upcoming season.   
"I am in my third year of coaching," said Patrick.  "I am looking forward to see the progress that the team has made this past year. They are a young team, and I will have many returners for next season."
Mike Gray, the coach of boy and girls golf, commented, "This is my 3rd golf season coaching.  I have been involved in golf one way or another for the past 35 years.  The last four years, I've devoted all my focus on my daughter's golf career and taking her around playing many golf tournaments.  Most of my free time is devoted to training her for a future in golf."
Gray also said, "What I'm looking forward to this girls fall season is trying to win a State Championship.   I have some very solid golfers on the team, and we should be contenders.   I have three golfers who consistently shoot under pa,r which is very rare in girls golf."
Our Varsity football team has had an awesome start, and at the moment, is undefeated!
David Legette, a senior running back, shared, "I feel like our work ethic on the field is unmatched.  No one works harder in our county.  What you see on Friday nights is the final product.  Great things are coming for Carolina Forest football."
Our fall sports season has only begun and we can not wait to see what it brings us this year. We encourage everyone to come out and support your classmates. Go Panthers!
Picture:  Coach Jesse Patrick and some of his team during the Carolina Forest Invitational on Sat., Sept.14.