Halloween Costumes: Then and Now
Hang on for a minute...we're trying to find some more stories you might like.
Halloween was part of the ancient Celtic religion in Britain. At the end of Summer, the Celts thought the barrier between our world and the world of ghosts became really thin. The Celts then threw a big party, and people would wear costumes to ward off ghosts. 
Halloween costumes have changed drastically over time. From dressing up to your favorite television character to something totally original, it is a time to not be yourself. You can be anyone you have ever dreamt of being.  
Senior Carlie Skolsky says, "I love Halloween because of the candy. It is fun to dress up as anyone you want."
It is interesting to see how costumes have evolved over time. The 60s and 70s are famously known for disco and hippies. The most famous costumes during this time include:  Charlie Brown characters, Barbie Dolls, Raggedy Ann, Elvis Presley, The Beatles and any super hero.
Teacher Kelli Puusepp mentions, "Back in the 70's,the crinkly plastic masks were all the rage. You could be anything from Casper the Friendly Ghost to Strawberry Shortcake."
The 80s and 90s was a time of retro. Back in the 80s and 90s, the most famous costumes included the following:  Annie, Madonna, Ghostbusters, Batman, Teenage Mutant Ninja Turtles, Addams family, Catwoman, and The Spice Girls.
Joseph Worley, a social studies teacher at Carolina Forest High School, explains, ''In the 80s, I loved being Dracula. Simple, easy and you got to wear fake blood!!!"
The early 2000s was known for the rise of millennials and technology. The most famous costumes back in the early 2000s were The Flintstones, Josie and the Pussycats, and Lady Gaga. This has evolved into modern day costumes. Costumes that are popular today included Katniss Everdeen, Harley Quinn, Frozen and Marvel characters.
Deeno Brown, a senior, comments, "I think I am going to dress up as the Black Panther this Halloween."
It is always fun to look back and appreciate the vintage costumes.  It's also interesting to see characters who have survived the test of time.  Happy Halloween, everyone!
(Guess the teacher in the picture…she can be found in "the G-house forest."
About the Writer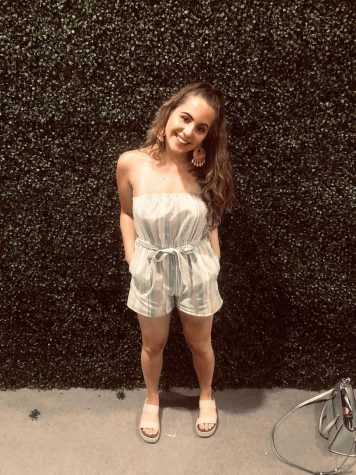 Zoe Santiago, writer
Zoe Santiago is a senior and a new staff writer for The Prowler. She enjoys hanging with friends and learning new things. After high school, she hopes...