College Fair Day!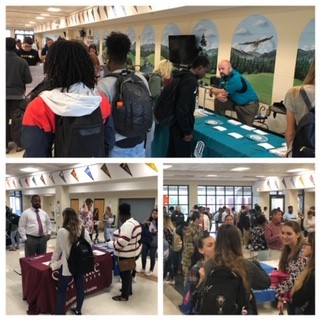 Hang on for a minute...we're trying to find some more stories you might like.
College fairs allow students to explore a variety of colleges, learn about college life, and the different majors and minors at a specific college. They are usually open to the public and free. 
Carolina Forest High School held a College Fair on October 9. Colleges came to Carolina Forest High School. Most from all over South Carolina, but there were a few from out-of-state. 
The colleges that participated in the college fair included; Anderson University; Belmont Abbey College; Benedict College, Brevard College; Campbell University; Charleston Southern University, Claflin University, Clemson University; Coastal Carolina University, Coker College, College of Charleston, Columbia College; Columbia International University; Converse College; Denmark Technical College; Erskine College; Florida Southern College; Francis Marion University, Full Sail University; Gardner-Webb University; Grand Canyon University; Horry Georgetown Technical College; Johnson & Wales University; Kenneth Shuler School of Cosmetology; Lander University; Lees-McRae College; Limestone College; Living Arts College; Newberry College; North Greenville University; Paul Mitchell the School Columbia; Pfeiffer University; Presvyterian College; South Carolina Army National Guard; Shaw University; South Carolina State University; Southern Wesleyan University; Spartanburg Methodist College; St. Andrews University; Strand College of Hair Design; The Citadel; The University of Alabama; The University of Tennessee-Knoxville; University of Mount Olive; UNC Pembroke; University of North Western Ohio; University of South Carolina – Columbia; University of South Carolina- Aiken, University of South Carolina – Beaufort; University of South Carolina – Upstate; Voorhees College; Western Carolina University; Winston-Salem State University; Winthrop University; and Wofford College.
Emma Wilson, a senior, commented, "The College Fair offered a wide selection of schools and lots of information about each."
One of those colleges was Coastal Carolina University, located about three miles from our campus. It is known for its academic life with its various majors.
Derek Doss, the associate director of recruitment for CCU shared, "College Days are great for students because it gives them a chance to explore a lot of colleges or having to organize too much. It helps students explore different options and potentially plan for college."
Doss added, "My favorite part of the job is when I get the chance to see a student I worked closely with being successful as a student and graduating with their degree. It's a proud moment to see that I was able to a student on their path to success."
Erika Tobrocke, one of our guidance counselors, explained how the college fairs are planned and why they are so important for students.
"This particular college fair is put together by CACROA (Carolinas Association of Collegiate Registrars and Admissions Officers) They invite the colleges and let us know who will be attending."
Tobrocke added, "College fairs allow students to have access to a large number of colleges all in one place; they are a much better way to obtain specific information to a student's college search.  Students are allowed to ask the questions that they have on the spot. College Fairs also introduce students to colleges that they may have never considered."
College Fair Day was a successful one at CFHS by showing students how to prepare for college. They are essential and helpful to students wanting to attend college in the future.