Polar Plunge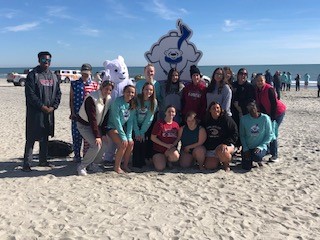 The Polar Plunge is an event that is a fundraiser to raise awareness for Special Olympics.  I, along with a group of Carolina Forest High School students, plunged in the freezing water on Saturday, January 28, at Sands Ocean Club in North Myrtle Beach.  Many showed up in costumes and with great enthusiasm.
The Myrtle Beach 2023 "Freezin for a Reason" event raised over $100,000 for the Special Olympics Organization, with Carolina Forest raising $1,248.  
Randi Aubry and Bren Allen, two of our teachers, were the CF leaders for the Polar Plunge. This was Aubry's first time participating.
Aubry shared, "Being a special education teacher, part of my job is to advocate for my students and give them opportunities to participate in things that typically do not happen easily for them. I believe this event is so important because it raised money for Special Olympics and individuals in our state with disabilities to participate in and get experience in something people probably never imagined they would experience."
Sofia Morant, a junior who participated in this chilling event, added, "I had an amazing time supporting the Special Olympics and seeing everyone else support as well .The ocean water freezing but it was so worth it." 
Personally, it was an amazing experience with nice people and good music.I was dressed in an American jumpsuit  with a swim suit underneath. I saw a Stormtrooper and Darth Vader and a polar bear.  Overall, I had a great time and am glad I could help make a difference.