Congratulations, We the People!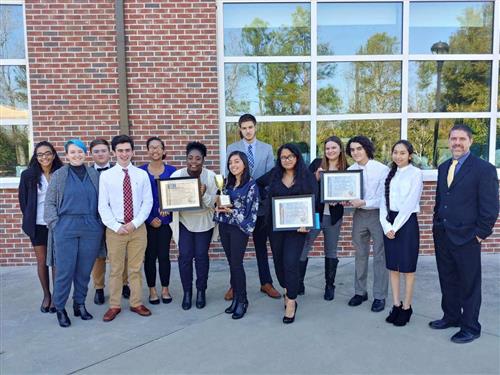 Hannah Ali, Staff Writer
February 7, 2018
Hang on for a minute...we're trying to find some more stories you might like.
On Saturday, January 20, our We the People team won second place in the state competition at Columbia, coming in close behind River Bluff High School. This is the second year in a row that our We the People team has won second place, now bringing back three of the six unit awards that make up the competition.
"Coming in second place was bittersweet," shared Sage Short, a senior on the team, "but on the other hand, we don't need the validation of a trophy to stroke our egos because we know we're a smart bunch."
At our school, Mr. Iagulli is the lead coordinator for our We the People team this year. His students value his assistance and teaching leading up to We the People. One of the main reasons our team won outstanding awards was because of their rigorous training schedule.
"This year's second finish is nothing to be ashamed of. We had some unusual circumstances this year that required the students to do twice the amount of work as usual," explained Mr. Iagulli. "For the team to have a great burden and still do well, it was very impressive."
We the People is a program that allows students to demonstrate their knowledge about constitutional principles as they "testify" before a panel of judges, facing off against other schools in the state, later going against different states in the nationals. This encourages their understanding of the American constitutional democracy and allows them to experience the relevance of the Constitution and the Bill of Rights first-hand. This program is sponsored by the Center for Civic Education
"The kids are divided into groups and analyze the intent of each question. They will research both historical and current event examples so they can gain a better understanding of how things have changed over time," shared Mr. Iagulli. "Finally, we prepare by working on skills specific to the competition like speaking, reading from cards, keeping eye contact, and shifting the argument from one topic to another."
Once again, congratulations to our We the People team! You've brought back amazing awards and won second place. We are so proud of you and your accomplishments this year!