Panther Spotlights
Hang on for a minute...we're trying to find some more stories you might like.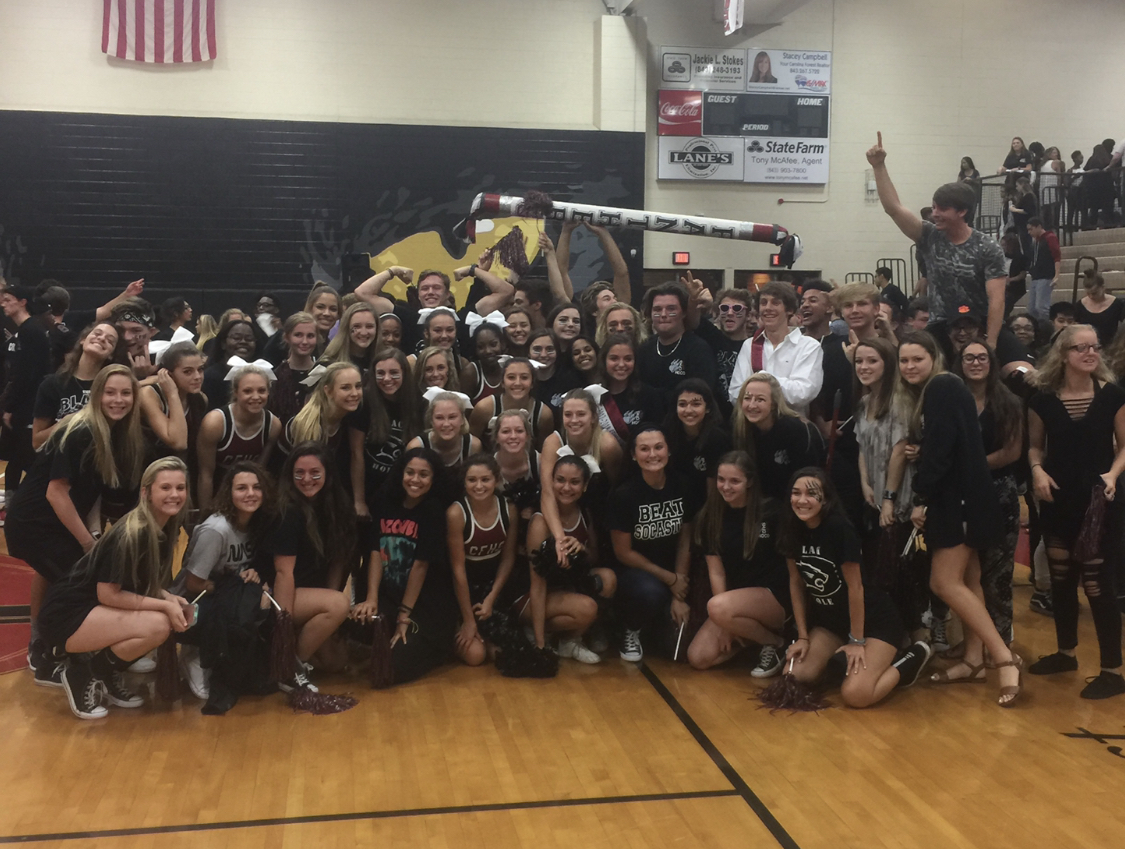 What is your most memorable high school moment?
"All the spirit weeks we have had."
-Kenzie Welker
"When me and my friends went on the senior trip."
-Megan Evans
"Passing my first AP exam."
-Cori Finelli
Which teacher(s) had the most impact on you? Why?
"The teacher who had the most impact on me was Ms. Bane because she shared my passion for English and taught me more than anyone in high school about life and lessons."
-Kim Cameron
"A teacher at Carolina Forest who has had the most impact on me, (and still does), would be Ms. Twigg. I first had her class my junior year for newspaper, and I had no idea what to expect. Looking back now, I am so glad she was my teacher. I have had Ms. Twigg for three semesters and she is the most sweet, caring, sensible, happy, go-lucky woman I know. She has taught me to see the positives in every situation, to pursue my dreams, to be a better writer, and to just be a better person overall. I have learned so much from her not only educationally but also morally. For that, I will forever cherish the impact she left on me."
-Shelbi Ankiewicz
"Master Chief Gruber and Captain Boyle had the most impact on me. Whenever I had a hard time and needed to talk, Captain would sit and listen and give me advice. Master Chief gave me a lot of good lessons in life. He always said that what you do now can impact your life in the future.
-Nicholas Allen
How have you changed the most during the past four years?
"I've matured so much, and I've gained respect for so many people. I also got a tattoo."
-Bryson Gore
"I grew a lot of self confidence over the past years. I used to be this bottled up, shy girl, who didn't have many friends, but now I can definitely say that I can be myself."
-Jaila Horton
"When I was a freshman, I had a total of like 4 friends, and now I'm friends with almost everyone.  Meeting new friends and breaking out of my shell."
-Kaitlyn Andresen
What is your most embarrassing high school moment?
"Having a huge hole in my pants all day."
-Jaiden Cox
"Having a desk fall from under me right before an AP Exam."
-Adam Bretton
"When my shorts fell down while I was playing basketball."
-Denisha Pace
What advice would you give to the upcoming freshmen?
"Keep up with school; don't give up on it just because you think its hard. No one gets anywhere when they give up on something. If you really want your dream job or just something in life, you need to fight for it, earn it, and show how badly you are willing to work for that thing. Listen to your teachers; they are not there to make your life miserable. They are here to teach you and watch you grow. Always be a friend, not a bully. If you are struggling in a class, please do what I didn't do… go to your teacher and tell them that you need help. Don't push aside tutoring; you will not regret it in the long run."
-Ariana Hersey
"Do not waste your time in an AP class. Get involved in clubs and extra curricular activities. Also, people will do you dirty simply because of jealousy and insecurity of themselves.  Do not react to their bullying and do not let it change your character. Keep your head high and do not stoop to their level."
-Sara Harrelson
"Stay focused and never be afraid to ask questions if you don't understand a problem."
-Samuel J. Mejia
What are your plans over the next four years?
"I'm going to HGTC to study aviation maintenance."
-Marcella Walsh
"I will be playing softball at Barton College."
-Emma Liles
"I am going to College of Charleston for History and later Law School."
-Avery Baucom