A Special Day on the Field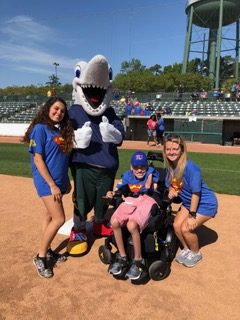 The Special Olympics of 2018 was a beautiful, inspiring event that took place at the Myrtle Beach Pelicans Stadium on April 18. The Olympics were held for people with special needs and their "buddies' of all ages from Horry County.
Opening at 8:30 a.m, entry into the Olympics was free of charge. The event begins with the opening ceremony conducted by the South Carolina Law enforcement with the torch run at 9:45 a.m. This signified the third year that the games were held at the Pelicans Stadium.
The athletes competed in several events, such as the softball and tennis throw, along with the 50 and 100 meter walk/run.  For the young athletes, (ages 2-7), there was a beach-themed play area.
Taylor Campson and Victoria Carey are two of Carolina Forest's Special Education teachers who worked hard to ensure the event would be fun and rewarding for those involved.
"It truly is an impactful feeling seeing our students so eager to help and encourage one another. They were all so thankful for such a fun and rewarding experience!" said Campson.
Carey agreed, "It was really a heartwarming to see our students and buddies enjoying the day together. I was so proud of each of them for being so positive and caring."
Although the competitive spirits ran high, it was more than just friendly competition. Performers entertained the children by dressing as iconic characters from Medieval Times and Star Wars. Others included the Pelican's shark mascot and the Ocean Lakes' star mascot.
Other entertainers include a DJ who blasted music throughout the day and a stilts performer, making balloons for people to enjoy.
"It was a great day. The events were well coordinated and the water was fresh. My buddy and I had a great time" said sophomore Anthony Mauro, a student who attended the Olympics.
*************************************************************************************************
Extra FYI: Eunice Kennedy, known as the founder of the Special Olympics, was a  woman who noticed the unfair treatment of people with these common disabilities. She soon realized that these children had nowhere to play and release their energy, so the then decided to take action an change their lives for the better.
With the help from the Kennedy Foundation and the Chicago Park District, Kennedy organized the first Special Olympics, held at Soldier Field in Illinois, 1968.