Avril Lavigne's Comeback
Hang on for a minute...we're trying to find some more stories you might like.
Avril Lavigne, a beloved pop star, went silent in 2013 and has recently resurfaced with a new single "Head Above Water." Theories were spread about the star's disappearance; a common one believed was the doppelganger switch up. Fans suspected that the thirty-four-year-old died and was replaced by a look alike to distract paparazzi. Little did they know, she was battling for her life.
"Head Above Water" is an emotional rollercoaster expressing the singer's near death experience with Lyme Disease. Lyme Disease is an inflammatory disease characterized at first by a rash, headache, fever, and chills and later by possible arthritis and neurological and cardiac disorders caused by bacteria that are transmitted by ticks. Lavigne was diagnosed in 2014 with the dreadful illness but came public during a 2015 interview with Good Morning America. The singer explains that her inspiration for the heavy-hearted ballad came to her when she had accepted the fact that she was dying. The singer was accompanied by her mother when she began praying, "God, please help to keep my head above the water."
Lyme Disease is meant to be treated immediately, and the singer went so long before being diagnosed that she was in a predicament. The singer's body grew weak, and she became bedridden for two years. She was forced to refrain from performing in order to recover.
"I had accepted that I was dying, and I felt in that moment like I was underwater and drowning, and I was trying to come up to gasp for air," she says of the night inspiration came to her.
The singer's website reports, "A year before, Avril's fight had just begun. Touring the world in support of her gold-certified, self-titled fifth album, the artist's health rapidly deteriorated. She can recall "barely making it" through 2014 while traveling from country to country and seeing numerous doctors on the road. No one could figure out what was wrong until her diagnosis."
In early 2015, she appeared on the cover of People's Magazine, sharing her told her story. While fighting her battle, the singer became constructing her new album. The year of 2017 proved a huge improvement for Avril as she began recording again, starting with her new emotional single, "Head Above Water".
Though a tragic struggle, Avril's story has positives and a happy ending.

"This is the first break I've ever taken since I was 15," Lavigne told People's Magazine. 'Head Above Water' was the first song that I sang," the singer said, and while she expected her voice to be feeble after the five years, she was forced to stay quiet. "It ended up being stronger than ever. The break happened to actually be good for my vocal cords."
Since her recovery, the singer has been advocating through the Avril Lavigne Foundation about Lyme Disease. Visit http://www.TheAvrilLavigneFoundation.org for more information.
The singer expresses, "The positive side is I didn't stop living my life. Having music while I was healing and in recovery definitely pulled me out of my darkness. I had a goal to work towards and a purpose. I hope the album touches people. We all go through challenges in life. Some are more serious than others. Having gone through the battle of my lifetime, I'm stronger than ever and looking forward to sharing my renewed voice and energy for my life with my fans through this new music."


About the Writer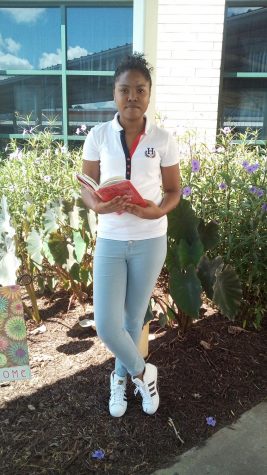 Caelia Allen, Staff Writer
Caelia Allen, a sophomore, has recently moved from Jamaica and is in the process of tackling high school at CFHS. Her interests include writing, reading...