Teens+Food=Money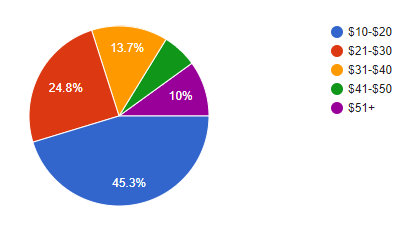 Hang on for a minute...we're trying to find some more stories you might like.
Teenagers these days spend most of their money on food, most of which is fast food. Many teenagers have part-time jobs on the weekends or after school. However, is it really worth all the long hours and hard work when most of the money seems to be spent at Chick-fil-A and Taco Bell?
Sophomore Alex DeBrito says, "I'll get paid and then the next day, I'll have no money because I spend it all on food. If you don't spend money on food, then what do you spend it on?"
There have been numerous studies on what teenagers spend most of their money on, and food is always the number one thing. According to Business Insider, teenage money spending is closely followed by the amount they spend on clothes. However, since clothes are more expensive, teens buy food more often than they buy clothing. An approximated breakdown of teenage spending reported that 23% is utilized for buying food and 20%  on clothing.
After a long day at school or job, it is so easy to just stop by a fast food restaurant. This is bad for teenager's wallets as well as their health.
Carolina Forest High School students were also surveyed on this topic, and the results were not a surprise. 352 students participated in this poll, resulting in 48.6% of them spend most of their money on food. They were also asked how much they spend per week on food.
There were seven different categories for the student to choose from, and food still had almost half of the responses.
Most of the students here agree with this.
Alexa Beale states, "I usually spend around $30-$40 on fast food a week. This is mostly because I never have time to go home after school."
Food has been and will most likely continue to be something in which teenagers spend most of their money.

About the Writer
Cassidy Duff, Media Editor
Senior Cassidy Duff, our Student Body President, is an editor for The Prowler. She was a broadcasting student last year, but this is her first year on...