The Hate You Give (THUG)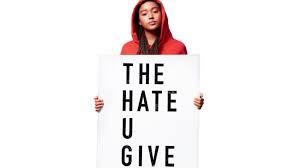 Haylee Adkins, Staff Writer
January 26, 2019
The Hate You Give (THUG) is a movie about a younger girl Starr who loses a friend to a terrible tragedy. She has to overcome speaking about the incident to get justice. Along the way, Starr faces challenges of who her friends are and tries to discover who she really is.
Amandla Stenberg plays Starr Carter who brings the character to life by becoming a different person, depending on the group of people she is with. Stenberg played Rue in The Hunger Games; she has also been in other movies such as Everything Everything and The Darkest Mind. Common is an American rapper and actor who portrays Uncle Carlos and plays The Stonekeeper in Small Foot. Russell Hornsby portrays Starr's father Maverick; Hornsby played in Creed 2.
The film opens up with a powerful reference to The Black Panther Parties Ten-Point Program. Ten-Point Program is guidelines to deals and operations to the The Black Panther Party. Maverick has his children learn these guidelines to know their civil rights.  
This movie is very powerful and relates to real life so much; it represents what most African Americans go through. The Hate You Give is a movie many people will disagree with do to the racial profile it has. I, on the other hand, believe it is one of the best movies that can relate to how life is today with all the riots and boycotts.
I enjoyed this movie very much! It is emotional and relatable do to some of the scene that brings out the social injustice in our society. The Hate You Give is a must watch, and I suggest you get a box a tissues.