The Evolution of Streetwear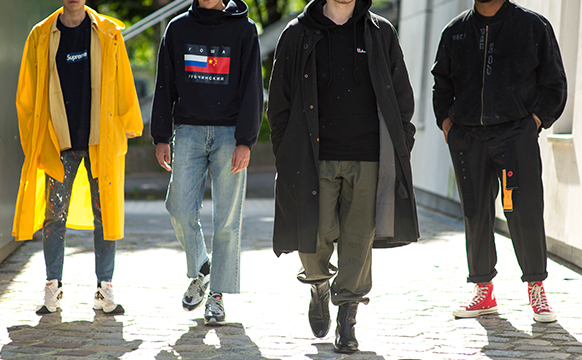 Hang on for a minute...we're trying to find some more stories you might like.
Streetwear is a fashion style that pulls together bits and pieces of other styles, such as sportswear, hip hop, punk, and Japanese street fashion. Today's streetwear also includes modern high fashion and haute couture. It's becoming more popular among celebrities and pop culture.
The term streetwear originated in the mid-50s, but the definition recognized by today's streetwear surfaced in the late 70s and became global in the 90s. The style grew from California surf and skate culture and produces looks that differ from mainstream fashion. Although he didn't create the style, Shawn Stussy, a native Californian, played a large role in helping it become popular by printing his logo onto surfboards and t-shirts.
Streetwear used to lean more towards the skater style, but now that high fashion is incorporated into the mix, the different style aspects are quite apparent. A streetwear outfit is more than just random clothes that are thrown together. It's also not difficult to build an outfit; one just has to know what textures, colors, and cuts look good together. The style centers on comfortable pieces such as jeans, graphic t-shirts, baseball caps and sneakers.  Bomber jackets and leggings are popular, too.  It may take some time to find the right pieces, but it's worth it in the end.
Many people who are passionate about streetwear and their styles dedicate an Instagram page to their outfits, and now they have created a whole community. Everyone in this community supports and helps each other better their outfits and give advice on styling them. The community continues to grow each day, and it's doing so quite rapidly. The main reason for this is that streetwear is becoming more common in pop culture.
The emergence and growing popularity of streetwear is an amazing thing because it's a new way for people to embrace themselves through their style.
John Galliano, a British fashion designer who is known for his creative outfits, once said, "The joy of dressing is an art," and he was not wrong.

About the Writer
Kaya Perry, Staff Writer
Kaya Perry is a junior who loves to read and write. This is her second year on The Prowler Staff. She spends most of her time hanging out with friends,...