CFHS Academic Awards Ceremony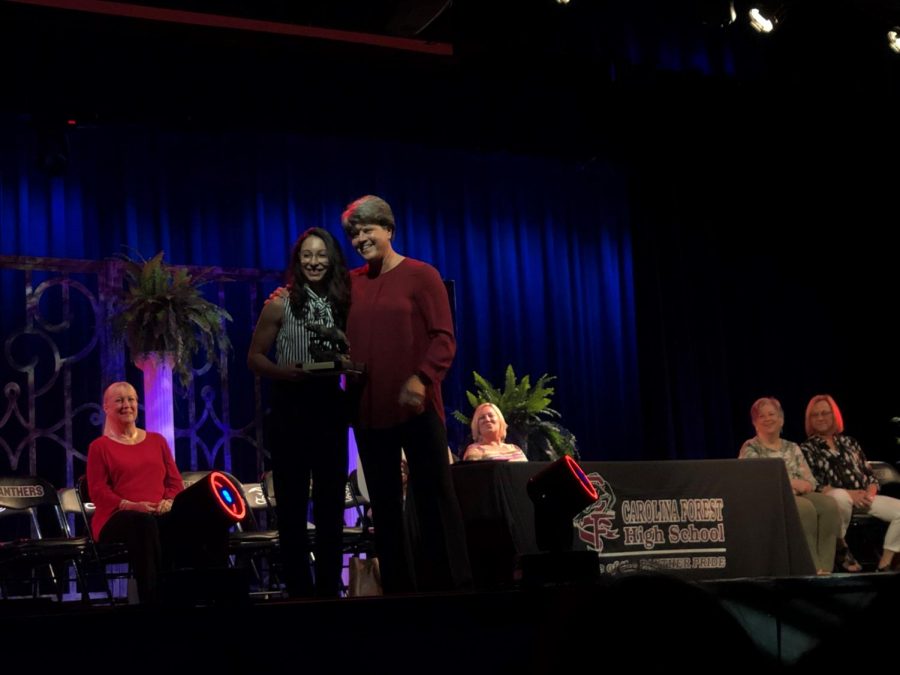 Lilly Hortis, Staff Writer
June 4, 2019
On May 16, Carolina Forest High School held their annual Academic Banquet. At the banquet, seniors and selected juniors received rewards for outstanding academic work and achievements shown all throughout their high school career.
Dr. Melissa Richardson-Sanders, one of our psychology teachers, served as the Mistress of Ceremonies. Dr. Richardson-Sanders described the banquet as, "an opportunity for those students who have excelled academically to be recognized for their hard work, determination, and dedication."
It was a wonderful morning full of well-deserving students:
Palmetto Fellows: Jacob Dozler, Delaney Higgins, Kinley Hysner, Jacob Josefsberg, Yeva Mkoyan, Bridgett Young
AP Academy: Gabrielle Arambula, Aimee Boudreau, Megan Bright, Thao Nguyen Bui, Cassidy Duff, Rowan Fling, Jade Gambill, Kinley Hysner, Emma Kurth, Sara Martin, Yeva Mkhoyan, Madeline Oliver, Charlene Roy, Rachel Snyder-Mounts, Bridgett Young
AP Scholars: Trevor Atkins, Aimee Boudreau, Thao Nguyen Bui, Bailey Cox, Delaney Higgins, Jacob Josefsberg, Robert Marrs, Rachel Snyder-Mounts, Justin Turbeville, Jerod Walden, Noelle Williams, Josiah Wilson, Nash Wrenn, Bridgett Young
AP Scholars with Honor: Megan Bright, Kyler Febbroriello, Rowan Fling, Acacia Hollins, Emma Kurth, Kaden Leonard, Madeline Oliver, Paige Petrizzo, Brandon Wrenn
AP Scholars with Distinction: Brentley Delamar, Elijah Donellan, Jacob Dozler, Jade Gambill, Dylan McLean, Yeva Mkhoyan
Preliminary Summa Cum Laude: Delaney Higgins, Jacob Josefsberg, Yeva Mkhoyan, Tori Powers, Vanessa Venegas-Soriano, Bridgett Young
Boys State: Christian Cassidy, Gene Gubatina, Andrew Jordan
Girls State: Nyah Julius, Abigail Kerwin
Junior Marshalls: Kaitlyn Kulick, Madison Powell
National Honors Society Presidential Medal and Vice Presidential Plaque: Alexandria Vereen and Yeva Mkhoyan
Coastal Teal Scholar: Shelbi Ankiewicz, Megan Bright, Rebecca Brooks, Cassidy Duff, Eden Hibionada, Emma Kurth, Delaney Lowrie, Caleb McClellan, Amya Miller, Natalia Najjar, Andre Newbauerr, Tori Powers, Zoe Vaccaro, Thomas Wrenn
Coastal Scholars: Brandon Wrenn, Alexis Stultz, Paige Petrizzo, Sara Martin, Noah Kessler, Lyjah Degrood, Carissa Cramer, Adam Bretton, Mikayla Barrett
President's Scholar: Brentley Delamar, Elijah Donellan, Kim Garcia-Morales, Anna Hoang
Provost's Scholar: Dakota Nealey, Kyler Febbroriello
Visual and Performing Arts Scholar: Carlos Santamaria
Outstanding Senior Awards:   Career Field: Deena Othman; Physical Ed: Bryce Crawford;  Science: Rachel Snyder-Mounts; Performing Arts: Noah Kessler; Social Studies: Yeva Mkhoyan; Math: Delaney Higgins; English: Bridgett Young; Visual Arts: Kate Osborne; Foreign Language: Bridgett Young; NJROTC: Tiffany Davis
SC Army National Guard Tuition Assistance: Brandon Lehman, Payton Jones
US Marine Corp Distinguished Athlete Award: Jackson Weatherwax
USMC Scholastic Excellence Award: Tiffany Davis, Brandon Garris
USMC Semper Fidelis Award for Musical Excellence: Bailey Cox, Josh Turner
HTC Reel Kids: Leah Kozoidek
Jo Defeo Memorial Scholarship: Tiffany Davis
HCHEC Hardship and Adversity Scholarship: Shelbi Ankiewicz
Carolina Forest Library Scholarship: Bridgett Young
SC Nathan M. Wolfe Law Enforcement Cadet Academy: Kevin Caldwell
Pilot Club of Conway: Rachel Snyder-Mounts
Conway Area Chamber of Commerce Salute to Education Outstanding Senior: Brandon Garris
Myrtle Beach Area Chamber of Commerce Salute to Education Outstanding Senior: Megan Bright
DAR Good Citizen Award: Tiffany Davis
HGTC Presidential Scholarship: Trinity Viering
Sheriff's Foundation of Horry County's Annual Scholarship: Mikayla Barrett
The Prowler's Editor Award: Cassidy Duff, Shelbi Ankiewicz
Performing Arts Thespians of the Year: Noah Kessler, Leonard Ja'Quan Shelton
One of the most valuable awards given at the ceremony is the Panther Award. It is awarded to a student in the top percentage of the class who exemplifies high standards integrity, characters, leadership and school involvement. The winner of 2018-2019 Panther Award was Yeva Mkhoyan.
Congratulation to all recipients and good luck in your future.