Club Rush in The Forest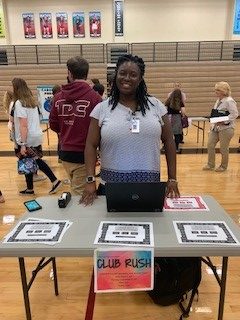 Lilly Hortis, Co-Editor
September 24, 2019
Last Thursday on September 12th, Carolina Forest High School held its annual Club Rush in the mini gym. Club Rush allows students to walk around and discover the variety of clubs  here at CFHS. With the large selection of clubs, there is no reason for every student to find a club that suits them. Clubs are beneficial for many reasons. They can help you meet new people, find new opportunities and even help you when you are applying for college. 
Abby Kerwin, CFHS student body president, says, "Joining clubs is important because it helps you get involved with your school and meet new people."
With it still being early in the school year, not all club sponsors have established their planned meeting dates and place. If you are interested in a club that does not have meeting information listed below, be on the lookout for information or email the club sponsor. 
American Sign Language Club – Loyd – Meets every Thursday during lunch in C117
Anchor Club – Puusepp – Second Tuesday during lunch
Chess and Uno Club  – Philon – Wednesday and Friday during lunch C109
ComicCon Club – Banks – 2nd and 4th Monday during lunch B116
DECA – Gore
Dungeons & Dragon Club – Nesbit
Earth Club – Watts, Sage – Thursdays after school E103
Fellowship of Christian Athletes – Brunson, Sefick, Twigg  – Mini gym during lunch on Tuesdays
Future Farmers of America – Strickland, Watson
German Club – Boyle
Guitar Club – Capuzzi 
Inspiration Club – Brisbon – Thursdays during lunch in A101
International Club – Strasinger – 1st and 3rd Thursday in B119
International Thespian Society – Ward – First Wednesday of the month at 3:30 in the piano room
Italian Club – Giganti – 1st and 3rd Tuesday of every month in C105
Key Club – Doughtery, Tighe
Knitting Club – Rue
Library Media Club – Nesbit
Math Honor Society – Steers, D'Egidio – Last Monday of every month in D118
Movie Club – Scott – 1st Tuesday of the month in A115
National Technology Honor Society – Brisbon, Thomas
NJROTC Academic Team – Boyle, Lawrence
Panter Ambassadors – Praefke
Play Ushers – Cox
Playing Card Club – Robinson – 1st Tuesday during lunch in D108 
Playwrights Club – Cox – Thursday during lunch in the drama room 
Robotics – Ernest – Starting in January every day after school in G105
Science National Honor Society – A. Prol – Last Tuesday of month D111
Spanish Club – Banks
Student Council – Bane – Thursday after school in C110
Table Top Board Games Club – Williams – Once a week during lunch in f112
Technology Club – Eagles
Ultimate Frisbee – McCarey – 
We Dine Together – McCray – During lunch E house 2nd office 
Terri Cox, one of our drama teachers, comments, "This is your time to try things. Try as many possible. Joining is one of the best things about high school. They'll help you find out who you are. If you're really lucky, you'll find your people and your place. That is what happened with me and the theatre program. Also, you need balance from working in academic classes to be well rounded. Have fun!
Personally, I encourage everyone to join and involved in a club. You never know what opportunities being involved in a club will bring you.