History Made on the Field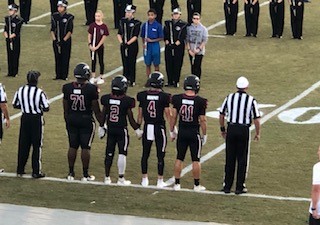 Sophie Gamble, Staff Writer
October 2, 2019
Myrtle Beach High School is currently the State Champions in South Carolina, and they definitely met a challenging team in our Panthers almost two weeks ago. For the past two years, Carolina Forest has not been able to play Myrtle Beach due to hurricanes. There is a vast amount of competition due to both teams' preparation and skill level. The teams have put in a great deal of work to prepare for this game.
"We played like it was the top team of the nation, and we just went out and smacked some players!" exclaimed Junior Latrell Pitts. 
This was a very big game for not just the community but everyone watching on TV. The game was streamed over Stadium Network. Only sixteen select high school games are streamed for this network, so it was a great experience for our school.
"It is crazy to see all the fans and people you know cheering you on; it just makes you want to play better," shared Logan Estep, junior. 
Both teams played very well, with the score of 43-28, Myrtle Beach. With two Division One quarterbacks, Mason Garcia and Luke Doty, who both committed to colleges their junior year, it was a tough competition for sure. Mason Garcia, senior at Carolina Forest, is committed to East Carolina University and Luke Doty, senior at Myrtle Beach, is committed to the University of South Carolina. 
"This was a very personal game and pressured me to do well because I was back-to-back with the other D1 quarterback," said Mason Garcia. 
There was a huge crowd with over 5,100 tickets were sold, and our stadium only seats 4,500 people. There were many college scouts and interviewers, so the boys had to be very prepared in order to achieve opportunities. 
"I felt the crowd created a great atmosphere. They showed all the support and showed how much of an impact we are making on the community," described Senior Josh Murphy. 
Ms. Driggers, our principal really appreciated the big turn out.
"What an amazing night! History was made! Marc Morris, his staff, of course, the players have created a football program that is embraced by our school and community. I was so proud of our Black Hole for being respectful, cheering for our Panthers and demonstrating superior sportsmanship. The CF Panther Marching Band and Cheerleaders were rocking the stadium along with the Black Hole, creating an energetic atmosphere. Jay Philon and Tim Barker added to the excitement by announcing the play of the field, igniting our fans and running our brand new scoreboard. Tripp Satterwhite along with Joey Worley, Emmanuel Dewalt, Jeff Friedland, Alicia Stanley, searchers, allied security, HCPD and CF administration prepared the field and the night went off without a hitch. Having our staff and teachers at the game was just the icing on the cake." 
The fans really pumped up our players, and our school really appreciates all the fun energy. This is a game we will not forget, creating history for our  Panthers.