CFHS Swim Team – Region Champs!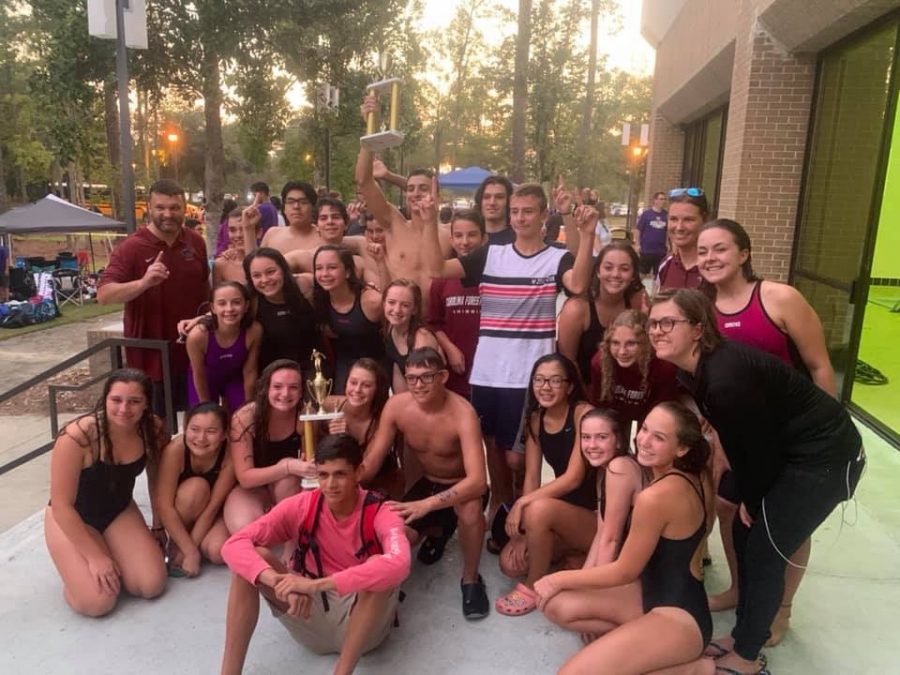 Lilly Hortis, Co-Editor
October 16, 2019
One sport here at Carolina Forest High School that is commonly overlooked is the swim team. This could be due to the fact that since there is no pool at the school, everything such as practices and meets take place off campus. Even though sometimes gets placed behind football during the fall season, CFHS has a great swim team, and this fall, we are the region champs! 
The swim team is often much smaller than other sports team, but many seem to like that aspect of the team. 
Anna Satterfield shares, "My teammates have become some of my best friends and I'm so glad we got to swim together and cheer each other on this season."
In past years, the coaches were Michelle Barnhill and Jenna Miller, but this year was different. There was a new coach this year, Coach Jeff Goodman.
Goodman comments, "This is my first year coaching swimming. I have enjoyed getting to know the swimmers, and the camaraderie." 
While swim is different than most sports and seems like an individual sport, swimming is also a big team sport. When competing in events, where you place overall matters in the end. You overall place earns points for the team helping them to win in the end. 
Training and practice for swimming is needed just as much as in other sports. 
"Our team practices three nights a week for an hour and a half, when we can get pool time. However, like I mentioned, many swimmers also practice with their club team as well," says Goodman. 
Both the girls and the boys worked hard all season to prepare for their region meet against some teams they had not competed against at all. One of the teams hardest competitors was West Florence High School. However, the team prepared well and was able to beat West Florence in order to win the Region. 
Coach Goodman says, "Winning the Region Championship with both the girls and boys team was amazing. I was so happy for the swimmers. For them, I feel like it validated all the hard work they put in during practice and meets. They earned it for sure!"
Congratulations to both the girls and boys swim team on winning the Region Championship! 
In addition to winning the Region Championship, a number of swimmers continued to compete at the State Championship meet on October 14 at The University of South Carolina. These swimmers were Rafael Adi, Harrison Clinton, Josh Duque, Ethan Nechemia, Andrew Neculai, Saman Vitharana, Davy Zevgolis, Arika Boudreau, Meghan Freiler, Ella Habib, Kailey Habib, Peyton McWhorter, and Anna Satterfield. 
Harrison Clinton was state champion in the 100 butterfly and finished in third place for the 100 breaststroke. McWhorter finished tenth in the 50 freestyle, and Zeviglois finished eleventh in 50 freestyle.
Congratulations to all the swimmers and Coach Goodman on their hard work this season!