Loading ...
TikTok Fun with Varsity Girls Soccer
*The Grand Strand sees an average of 2,800 hours of sunshine per year.
 *The average four- year- old asks over four hundred questions a day.
*Dolphins have been known to protect surfers from sharks.
Most Popular Netflix Shows
A Google Form was sent to 50 CFHS students, asking what Netflix series is the best one to watch.  According to the responses, the top six shows are as follows:
 "The Office"
"Supernatural"
"Peaky Blinders"
"All American"
"Criminal Minds"
"Degrassi"
Let's Get Candid! Senior Class President Alexa Beale has ELearning and "Elaxing" under control.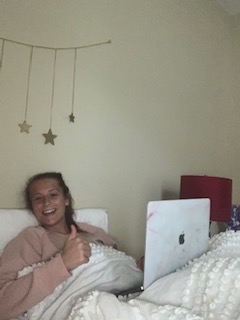 Silver Streams Submissions
The Silver Streams will be updated frequently and will highlight our students' art and writing talent. In the link below, you may submit any artwork, photography, writings, and/or music that you would like to be featured in the our on-line literary magazine.
Note: If you would like your piece formatted a certain way, you may also provide a hard copy to Ms. Twigg's room in Tech 3.
Submit your entries to the following:
March 27 – 3rd quarter ends
April 9 – Prom (postponed…check back for update)
School is closed until April 30
 "You can't make decisions based on fear and the possibility of what might happen." 
                                                 Michelle Obama