Brothers on the Field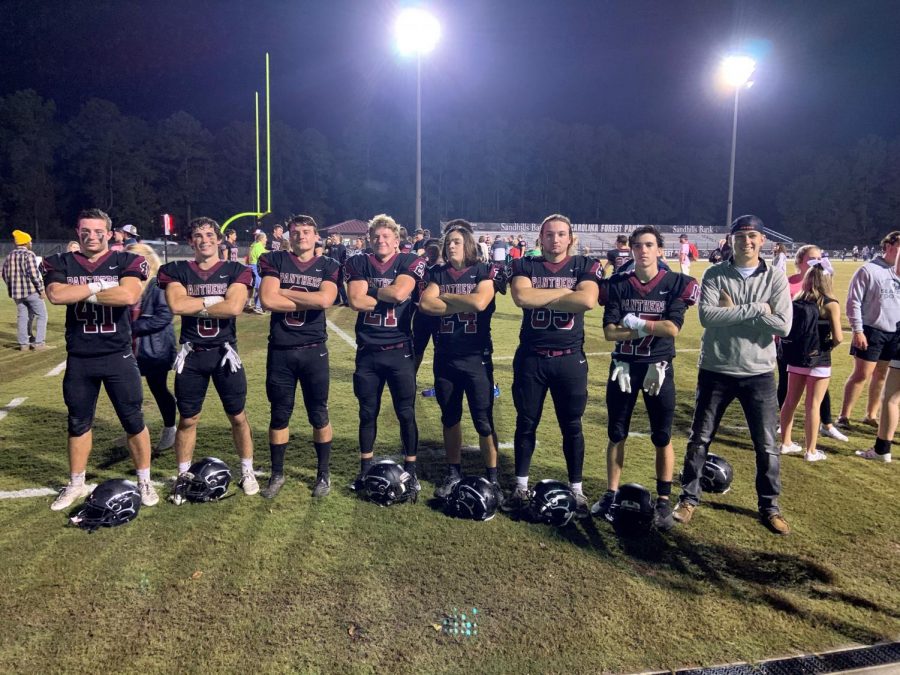 Sophie Gamble, Staff Writer
November 8, 2019
Playing on a team with your sibling has its positives and negatives. The Carolina Forest football team has four sets of brothers playing this fall: Connor and Brendan Meehan, Adam and Luke Janack, Eli and Ethan Hillman and Patrick and Anthony Mauro. 
Typically siblings are very competitive, but these brothers have very good relationships. On the field, they just put on their "A-game" and try their best. 
Connor Meehan, junior, and his senior brother, Brendan Meehan, have been playing together for 13 years. This is their first year on the varsity team together.
 "We are always a little competitive, but we're teammates at heart," says Brendan Meehan.
Brendan Meehan, outside linebacker, plans on playing in college or the NFL but no specific team or school. "I love playing with my brother, we are best friends on and off the field.
Connor Meehan, defensive back/safety, plans on playing football in college for Army. "I love playing with my brother because we have chemistry like no one else on the field. We also spend most of our free time together, hanging out with friends." 
Adam Janack, junior, and sophomore brother, Luke Janack, have been playing together for ten years. They both get a lot of playtime together on the defensive line.
 "The competition with my brother is always there. We are always competing for everything, between who gets the last slice of pizza to who can get a better tackle on the field," adds Luke Janack. 
Adam Janack, defensive back, would love to play football in college. "I love playing on the field with my brother.  We always have fun, but the competition is very strong."
Luke Janack, inside linebacker, hopes to play football at the University of South Carolina and bring his skills to the NFL. 
Janack shares, "The relationship between my brother and I off the field is endless. Adam and I pretty much do everything together; we are inseparable."
Eli Hillman, senior, and his brother Ethan Hillman, junior, have a really competitive but also funny relationship on the field. They have been playing together officially since middle school  but played one-on-one when they were younger.
"It is always fun when Eli isn't injured, but that is rare," says Ethan…a bit sarcastically.
Eli Hillman, linebacker, is participating in his last season. "I like getting to hit Ethan hard because he plays offense while I am on defense." 
Ethan Hillman, wide receiver and holder, does not plan on playing professionally. "The competition between me and Eli is very strong."
Anthony Mauro, senior, and his brother Patrick Mauro, junior, have a very close but also very competitive relationship. They have been playing together since elementary school.
"Our relationship on the field is very intense; we push each other to be better," explains Anthony Mauro.
Anthony Mauro, tight end, hopes to take his football career to the next level in college. "Even though my brother and I make fun of each other all the time, we are actually best friends and tell each other everything."
Patrick Mauro, corner, would also like to play for college.   "I enjoy playing football with my brother, it is always fun and competitive."
All the brothers on our team have really close relationships, and we wish them luck as they take on playoffs together.