Project-Lead-the-Way Welcomes Elementary School Students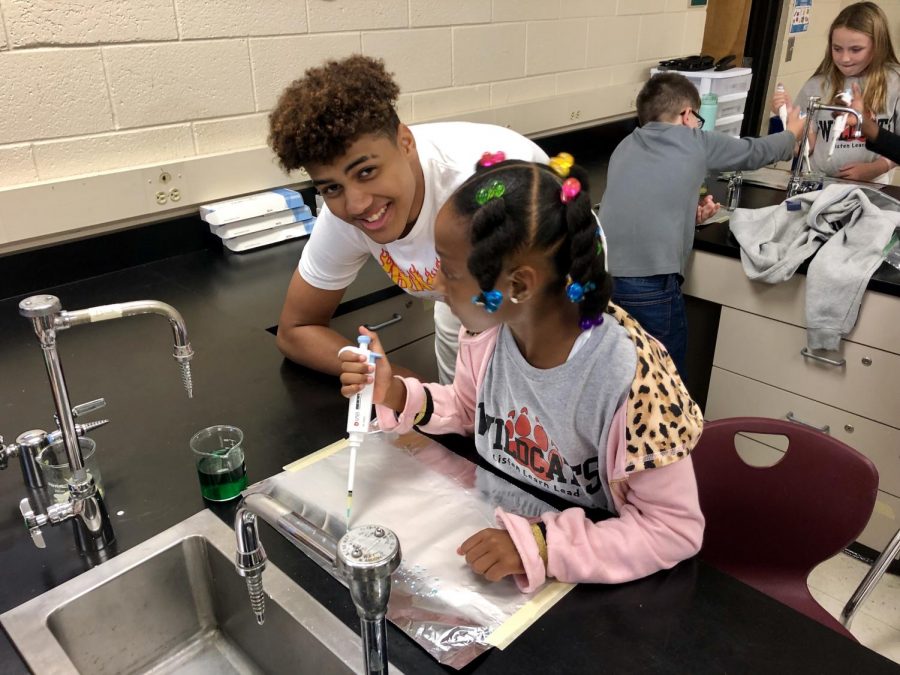 Sophie Gamble, Staff Writer
November 26, 2019
Our Project-Lead-the-Way Program here at Carolina Forest invited fourth and fifth graders from Waccamaw and Palmetto Bays Elementary Schools to work on STEM projects, such as robotics and science projects.  Mr. Layton, Ms. Miller, and Ms. Rue, three of our science teachers, helped make this event a huge success.
Project-Lead-the-Way is an American non-profit organization. PLTW uses STEM curriculum throughout high school, middle school and elementary school. They create a fun and engaging learning environment to give students a more knowledgeable hands-on project that requires analytical thinking. 
Christine White, a teacher at Palmetto Bays Elementary, added, "When my 4th graders were given the opportunity to collaborate with students from CFHS, they were thrilled. It was an honor to be invited to visit the different STEM classes. I was so happy that my students had an opportunity to learn at a different level."
During the student visits, we offered a robot simulator that challenged the student's hand-eye coordination. The students were challenged to pick up a ball using a grabber mechanism. 
Jennifer Cedeno Santiago, a student from Palmetto Bays Elementary said, "When we entered the first room I was full of excitement! We had to make a heart out of clay and I couldn't believe how good it looked. I was sad to have to leave, but now I am excited to go to high school."
Erin Ellis, a STEM teacher at Waccamaw Elementary, shared, "The excitement these students had was absolutely breathtaking. Being able to learn hands-on and from students was inspirational to show our kiddos that they can be successful in their future endeavors in the PLTW high school programs."
We also offered a pipette challenge where the kids had to use a pipette to make small similar-sized dots.

"It was fun being able to walk the kids through hands-on science and medical field activities," said sophomore Lauren Tarbert.
The students enjoyed learning new things and experiencing what their future programs could be like. 
"Overall, we had a great time hosting PBE and WES here in the Forest! It was awesome to see high school students and elementary students not only collaborating together but learning together as well," added Ms. Jenna Miller.