The Life of a Swimmer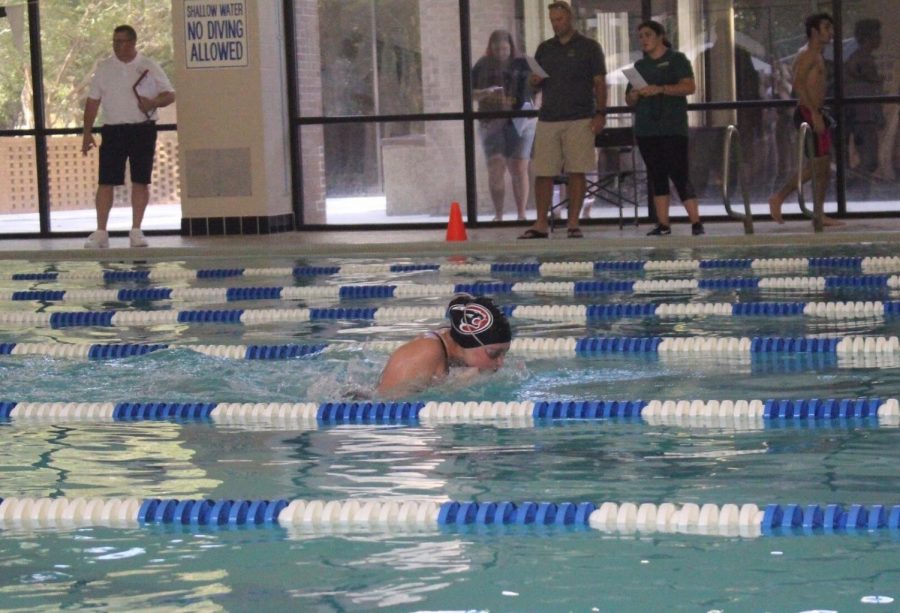 Ann M. Twigg, Advisor
February 4, 2020
---
Swimming has become second nature for junior Anna Satterfield.  Along with a myriad of other Carolina Forest High School athletes, training and participating in a favorite sport year-round is a major part of their lives.  Satterfield is no exception.
"I became interested in the sport around seven years ago when I watched my cousins swim at meets," shared Satterfield.
Since Satterfield swims for a club team as well as our school, training and time management are crucial.  She is an honors student who is actively involved in the following organizations on our campus: National Honors Society, The Prowler newspaper, National English Honors Society, Rho Kappa, the AP Academy and Panther Ambassadors.
Satterfield added, "For my club team, I practice everyday except Sunday for about two-three hours, but I practice longer during the summer.  I also have morning practice two days a week, and I usually go to the weight room after practice.  
Satterfield plans to swim through her senior year, hoping to win regions for the second time during her high school career.  She also hopes to make more state cuts for the 100 and 200 breaststroke for her high school team. Another aspiration is to make a cut in the 50 freestyle for club. She knows how much dedication it will take to stay in shape and continue her training but does credit some of her success to the support of her family and friends.
"We have truly enjoyed watching Anna grow as a swimmer.  Her choice to swim-year-round has brought her challenges, and she has made many sacrifices. We are so proud of her dedication to her sport and all that she has accomplished," commented Cheri Satterfield, Anna's mom.  
So the next time we wake up around 6 a.m. only to cozy into our pillow for a bit more sleep before starting our day, know that there is a good chance that Satterfield is immersed in water, preparing for her next competition.