Early Graduation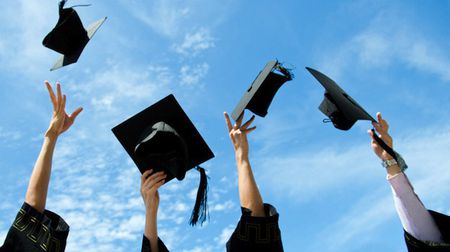 Many people think a student must spend the full four years in their high school career, but that isn't exactly true. Students at Carolina Forest High School have the option to graduate up to a year early. This can aid those students in several different ways.
As long as a student gains all the credits that are required for graduation, then he/she doesn't need to attend for the full four years. This could potentially put a large amount of stress on a student; that's why early graduation is optional. A student can talk to his/her guidance counselor about it if he/she is interested.
Guidance Counselor Laura Burdick commented, "According to Merriam-Webster, the definition of graduating as an intransitive verb means to pass from one stage of experience, proficiency, or prestige to a usually higher one.  What is your next "stage of experience"  that you are working toward? Time is such a valuable commodity. The question about early graduation at this age might become the same question about early retirement later in life… what do you want to do with that time?"
The majority of students who graduate early do so because they would like to get a head start on their career. The earlier they graduate, the earlier they can begin the next chapter of their life. 
CHFS alumni Lexi Acree shared, "I decided to graduate early because, although I enjoyed my time in high school, I knew that the sooner I started college, the sooner I could start my career."
 Some students graduate early just to skip the dreadful senioritis. This allows them to keep working hard and could help their GPAs. Then before they even realize it, it's their last day of school. 
Although graduating early has its perks, many early graduates tend to miss high school in some way. School is a big part of a child's life; it can be hard to let it go. They make special bonds with their peers and teachers. 
Rayshad Linnen, CFHS alumni who graduated in January, explained, "I miss spending time with my friends and some teachers; I love my friends."
Graduating is a difficult transition for some students, which is why most choose to stay the full four years, even if they have the ability to graduate early. Another reason for students to stay is that they take AP classes that last throughout the whole year. These classes offer college credits, so it's almost better than graduating early. 
Senior Lindsay Crick added, "I didn't graduate early because of AP classes; they provide a good challenge for me. I love the teachers and the AP credit looks amazing on college applications.
There are several different reasons why a student would want to graduate early. It all depends on what he/she wants to do after high school. 
If you're interested in early graduation and would like more information, please contact your guidance counselor.