Bon Jovi's "It's My Life"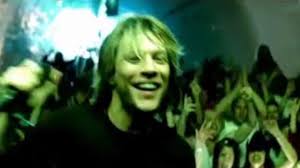 "It's my life. It's now or never. I ain't going to live forever. I just want to live while I'm alive."
Those are inspiring words from the band Bon Jovi. It's a pop rock song written by Jon Bon Jovi (lead singer of Bon Jovi). The song is an inspiration to me because I have a saying: life is short, so enjoy it. It reminds me of this song so much.
The song brings back some old Bon Jovi rock vibes for everyone to hear. "It's my Life" was the only popular song from "Crush." This song is definitely a rock head banger song for jam sessions. It  made the charts just like their old songs "Livin' on a Prayer," "Dead or Alive," and "You Give Love a Bad Name." It did get nominated for a Grammy award for Best Rock Performance by a duo or group with vocals in 2001. This song can relate to everyone just by the title of it. Everyone has a story about his/her life.
This song can be a very easy sing-along song that everyone would love. If you are into rock, then this is a song for you! It's very catchy and only took me a few days to learn the lyrics. There is no rap or cursing in the whole song at all. This song has no judgement against the listener; it is all about living now! The song seems old, but it really isn't. It was released in May of 2000. It's available on all music apps you use to jam to songs you love. The song is the band's third biggest hit. "It's my Life" peaked on Billboard's Hot 100 at #33. "It's my Life" was used in commercials from 2001 to 2004. It was recorded in 1999 and almost 4 minutes long.  The music video for it has over 850 million views. It's on their seventh album, "Crush." The song was a great success.
Now the question is…will you listen to it? I listen to it everyday. That is how good it is. Bon Jovi made it an unique song for everyone to relate to back in the day and now. The song is happy and upbeat for a party! Go listen and watch the music video for "It's my Life" right now!