Music While Studying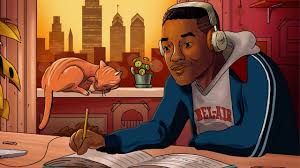 For many years students and teachers have argued over the question of whether you should be able to listen to music while studying.  Some students have found it helps to study with music. I decided to check on this by asking students their opinion.
Makenna Zeitz says, " I find listening to music helpful while studying; it helps relieve built up stress while trying to finish long assignments." 
Isabelle Silva comments,  " Listening to music calms me down and sets a mood for me so I can concentrate."
Studies have shown that "background music is likely to help students improve their focus during long study sessions" (Foundation Education 2018). Listening to music also while studying also helps reduce anxiety and stress. 
Kyree Matthews adds, "Music helps me out so much; it also helps on an emotional level.   Studying could get drawn out if you're not interested in that subject, so music could help keep you interested."
So why can't students listen to music while studying? Some teachers say that music with lyrics don't help students focus. That's why some teachers tend to play classical music in the background without words. I asked one of my teachers, Mrs. Camille Edwards,  to share her thoughts.  
 'I did some research on it a while ago, but studies say that music that you don't know the lyrics to help you study better rather than listening to music you know all the words to. You might not notice it but with songs you know every word to you start to focus more on the song rather than the work itself."
In my opinion, listening to music does help me stay focused and doesn't make homework so boring nor such a drag. The only time that I don't listen to music while doing work is wherever I'm reading. 
I asked students what songs help them focus the most. Here's a list of songs students listen to while studying:  
"Brooklyn Baby"- Lana Del Ray

"It's it time to go" – Taylor Swift

" Positions"- Ariana Grande

"Heater" -Conner Gray

"Sicko" – Cloves

"Stuck with you" – Ariana Grande and Justin Bieber

"Champagne problems" – Taylor Swift 

 Moods – "Sincere"

"CopyCat"- Billie Eilish 

"10,000 hours"- Dan and Shay

"Afraid" – The Neighborhood
And so many more. What are some songs that help you study? We would love to hear your answer! Go check out our account on Instagram @cfhs.prowler and let us know your response!