College Applications & COVID-19
Bayli Soles, Staff Writer / Media Production
March 10, 2021
There are so many ways the COVID-19 pandemic has affected the education system, such as the changes concerning college applications. Being some colleges have gotten rid of some of their requirements while some have kept it the same. Since college is right around the corner for me,  I have been looking into colleges and the requirements. 
Unfortunately due to the pandemic, many requirements have changed and have been lifted. This is going to be difficult for the Juniors this year to make sure they have everything they need to go to the college they would like to go to or any college for that matter. This has been a different year for the seniors and the juniors to prepare for college. 
One of the ways colleges have changed from the pandemic is that colleges are understanding if grades are incomplete. It has been said and shown that some high schools stopped grading in the spring of 2020. The admission has been more about who you are as a person and what you are doing outside of school. This is because during this time it has been hard to have an SAT or ACT score due to the pandemic. The absences and missing school work can affect admission into a college. Although colleges are being less strict doesn't mean that we don't have to do our work.
Guidance counselor Mrs.Brittany Tilberry adds, "Most colleges will require something else in place of the test scores, such as a graded writing assignment. I would still encourage all four-year, college-bound students to take the ACT/SAT due to scholarship opportunities, but it is good to know they have the option to apply if they are not satisfied with their test scores."
Another example is entrance exams are less important than they used to be. Since the spring of last year, the SAT and ACT were canceled. Students are limited to times when they can reschedule their tests. With the uneven availability of the two most common tests, there are many colleges that are temporarily taking a different test score. Students are also not doing as well on their tests because of hybrid and virtual schedules. 
The University of California system is the first college to become test blind. This means that they are not looking at ACT or SAT scores. Some South Carolina schools like Presbyterian College and Furman University are doing the same thing.  College is starting to come out to say that it is not all about the test scores that they are looking for. They are looking into more as are you in AP or Honors classes. 
The last one is that personality is going to count more than it did. Sports, performance, service, and jobs are going away because of the pandemic. For some students, the challenge of COVID-19 is getting in the way of their day-to-day lives. Some students have been stuck inside since March due to them or someone they love being at high risk. Many students have not been able to participate in their normal activities like they used to due to the pandemic. Colleges are having to really look at what students this past year have been through and what they would be doing, from not being able to tour campuses like they normally would have to meet with people at the school virtually. Seniors this year have been affected entirely by this pandemic by not being able to meet in person with colleges and universities. Some students are trying to make sure that their grades are even better than normally would because colleges are now having to take into consideration no test scores or the way they are being affected by the pandemic.
Sarah Jonasson (senior) states, "I think college application day was a huge change. It was weird talking to all the different schools virtually. Getting everything I needed to fill out my application was more difficult because of not being at school all the time."
Of course, there have been many ways that the COVID-19 pandemic has changed colleges.. Colleges are changing their application process from now on. It has been a rough year for everyone, especially the seniors. This is a very important part of their life, and due to the pandemic, it has been greatly affecting their college application experience.
As a junior, I am now living my high school experience to the max. Seniors should spend time doing what they want and not worried about college because colleges are going through this difficult and challenging time just like we all are.
About the Writer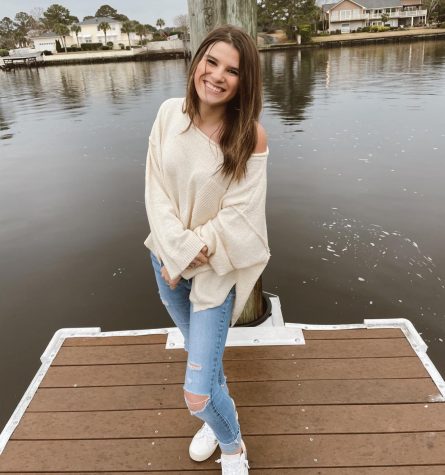 Bayli Soles
My name is Bayli Soles, a  junior at Carolina Forest High School, and am a member of Student Council, Panther Ambassadors, and Varsity Cheerleading. I...