COVID-19 – Spring Break and Beyond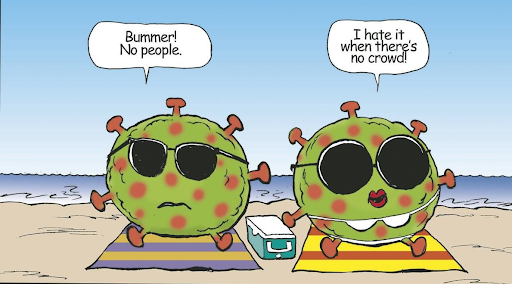 Are you tired of staying inside all day and on your online school or hybrid schedule? 
I hear you! The past year has been filled with chaos that we couldn't even imagine. Just like you, I want to take a break from all this madness as well. With spring break approaching, you might ask yourself what can I do during a global pandemic? You shouldn't go out with your friends during this, but there are a handful of other activities that you can do! There have been laws lifted with COVID restrictions, but it's important that you keep yourself and others happy and healthy.
From personal experience and the CDC restrictions, I came up with a list of do's and don'ts with this year's spring break plans:
 The do's and don'ts of 2021 spring break traveling:
Don't travel in large crowds.

Don't attend big events like concerts, fairs, festivals and more with gatherings over 10.

If possible, don't take the train, bus or airplane.

WEAR YOUR MASK!
On the brighter side:
Go camping outside and enjoy the great outdoors.

Have a small campfire with close friends and family.

Continue to follow all rules with social distancing

Plan a road trip with your household.

Order new movies that just came out.

Rent out a movie theater for you and an acceptable amount of people.
Kyree Matthews, a junior,  shares," Some things that you could do for spring break  is to have a virtual picnic with friends.  You have like a trunk or treat kind of theme. You could all meet in your cars, park a couple spaces down, listen to music, eat, talk, etc.   Overall, you should always find some way to stay connected to friends while being safe." 
Junior Isabelle Silvia, adds,  "Personally, I think many people won't follow the restrictions that are going to be placed or even the restrictions we have now. The more time that passes during this pandemic, more people tend to forget the risks being taken. I hope everyone stays safe and conscious of others around them during their break."
Rapid advancements in oth the distribution and debate have been a major topic of conversation during the past months.  Dr. Ali Mokdad, who is a part of the Department of Epidemiology, states, "By May or June, 70-80% of the United States should be vaccinated." That's almost 250 million people. If everyone follows the COVID -19 guidelines, many experts feel we should be experiencing some positive outcomes as well.
 Although our 2021 spring break won't look the same with what we're normally used to, I'm sure with continuing to follow the COVID guidelines, we should be able to go back to normal sooner than later.