Plexiglass: Is It All It's Cracked Up To Be?
Gabby Hanson, Staff Writer and Media Production
March 19, 2021
In recent weeks, a very heavy conversation has been focused around the installation of plexiglass in schools across the country, including somewhere more close to home, Horry County Public Schools. But is it worth all of the rave? Does science prove the theory that it will contain the COVID-19 virus? And most importantly, how does it affect the learning experience of students behind the plexiglass "shields"?  Besides the controversial effectiveness, how are they altering the learning experience for students?
Our students have various opinions about the plexiglass and the upcoming mandate to come back to school five days a week. During the past week, I asked various students the following question: "How does a classroom setting with plexiglass make you feel or affect your learning experience?"
Senior Jordan Crumling responded, "It makes me feel confined in a certain area like I'm on display.  Seeing through the plexiglass is hard in certain seats causing me to feel anxious."
Dreme Davis, a junior, said, "Having plexi glass does create challenges within class learning. I find it very hard to communicate with the other students around me. I also find it hard for teachers to communicate with their students."
The plexiglass installation was put on hold over a week ago, but our schools were informed on March 17 that the crews will be wrapping up the rest of classrooms as soon as March 18.  It is possible that Carolina Forest High School could start back to five days before Spring Break.
Freshman Caroline McGhee replied, "It makes me feel distracted, and it is hard to hear what the teacher is saying."
"It's weird at first, like I can't see the board properly. I need to stick my head out of the plexi glass to see, but it hasn't affected me too bad," added Teymor Nuwayhid, a freshman.  
Personally, I can attest to having a very negative feeling the first time I walked into class only to see students confined in a room full of plexiglass. You feel like you're the animals in the zoo. Before we had plexiglass, we had masks. It has certainly been a challenging time. The masks alone are anxiety provoking but considering the pandemic, there isn't a way around them. But plexiglass? You walk into a classroom with 30+ desks filled with students all of which have lives and their unique personalities that unfortunately you may never know about, you just remain strangers. On top of the discouraging social setting, there is hardly enough room to move around in some classes.   As a freshman, I have found it is incredibly difficult to make friends when everyone sits in silence, which is discouraging and sad. I just don't see them as our saving grace. 
Is plexiglass the answer? Do they actually do all they say they can? Are masks as effective as they are said to be? And will this vaccine really be that which turns this nightmare around?  Everyone has his/her own opinions, and there is so much controversy. My hope is that the light at the end of the tunnel is around the corner and that spirits will remain high until then.
About the Writer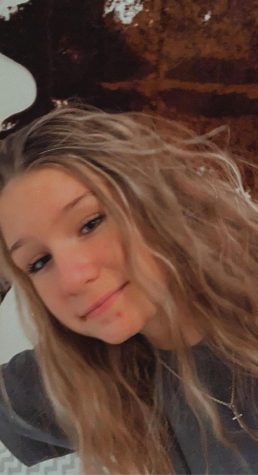 Gabby Hanson, Staff Writer
Hi, my name is Gabby Hanson. I am a freshman at Carolina Forest High School and  our Student Council's  Freshman Vice President. This is my first semester...