Principal Gaye Driggers Awarded SCAAA Principal of the Year!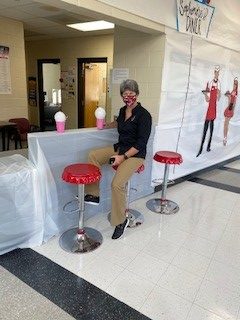 Bayli Soles, Staff Writer / Media Production
March 25, 2021
Principal Gaye Driggers has been named the SCAAA 5A Principal of the Year. We are so proud of her dedication, commitment, and service to our school. Ms.Driggers has worked her way up through education from being a teacher/coach to an assistant principal to now a principal. 
Driggers has impacted many people in her life and will continue to so. Athletics encompassed many years of her teaching career before entering into an administration role.  She was a great coach and mentor and will never know how many people she has impacted.
After being at Conway High School from 1990-1997 as a PE teacher and a coach, Driggers transferred to Carolina Forest.  She led the volleyball program for 14 years with an overall record of 176-90, along with leading the Panthers to three Region Championships in 1999, 2001,2002, and was named Region Coach of the Year in each of those years, as well as Toast of the Coast Coach of the Year in 1999. Coach Driggers not only coached volleyball but also our softball and the girl's golf team. She started the softball program at Carolina Forest High School and was also selected as a South All-Star Softball Coaches in 2003 for the SCCAWS North-South All-Star Softball game. She also served as president of the SC Coaches Association of Women's Sports in 2002-03. 
In 2007, Driggers then moved from being a PE teacher to an assistant principal.  In 2011, she was promoted to being our current principal of Carolina Forest High School. She has done a great job of making sure all the students, staff, and parents are satisfied and happy with all her decisions. Her favorite thing about working here at Carolina Forest is being with all her students. 
 "I was inspired to become a principal because of the opportunities I get to work with fellow educators to provide the very best educational/extracurricular and athletic experiences for the students," shares Driggers.
She makes your school experience so much better and so much fun and is an excellent example of what it means to chase your dreams. Her hard work and dedication to the school and the education system have really paid off. 
Ashtyn Perry Student Body President says, "Ms. Driggers sets the tone for Carolina Forest. Her positivity and drive to do the best for the school is contagious. She will go above and beyond to do what is best for our students and staff while making CF feel at home."
Driggers is honored and humbled to be awarded the SCAAA's Principal of the Year Award.  When awarded this outstanding award, she thought about all the staff, teachers, and coaches that make up the wonderful staff we have here a CFHS.
"It takes a team to provide the best for our students and athletes," adds Driggers.
We are so proud of you, Ms. Driggers, and know you deserve this award and accomplishment. Thank you for everything you do for us at Carolina Forest. 
About the Writer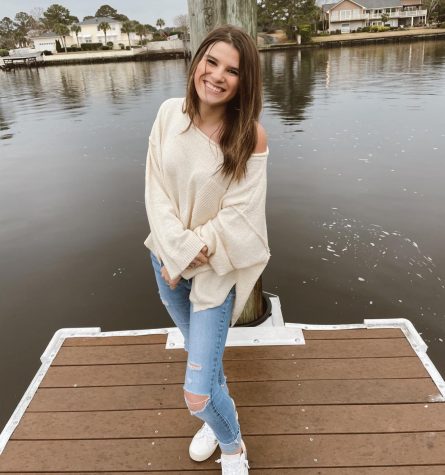 Bayli Soles
My name is Bayli Soles, a  junior at Carolina Forest High School, and am a member of Student Council, Panther Ambassadors, and Varsity Cheerleading. I...