"What's Eating Gilbert Grape" Review
During Spring Break, I reconnected with What's Eating Gilbert Grape, a cult-classic 1993 coming of age, romance movie. It centers around the titular character, Gilbert Grape, and his life in the fictional town of Endora, Iowa. It follows many major themes, such as family, life questions, obesity, mental disabilities, and more. 
Gilbert Grape is a young man who lives in a small, boring town called Endora. He lives with his two sisters Amy and Ellen, his younger brother Arnie, and his mother. Gilbert is the man of the house, so he is expected to take care of the basic needs, while Amy, the eldest, takes care of the cooking and cleaning. Gilbert spends the most time taking care of and looking after Arnie, Gilbert's younger brother who has a severe mental disability. Gilbert's mother hasn't been the same since his father passed away, becoming morbidly obese in the 17 years that he's been gone. She hasn't left the house for seven years, while she eats, rests, and sleeps on their living room couch.
One day in Gilbert's boring life, a worldly girl, Becky, and her grandmother get stuck in Endora after a part in their camper breaks down. With the assistance of Becky, Gilbert learns to love the little things in life and to stop letting his life pass him by.
A prominent theme in the movie is taking things for granted. Gilbert takes his life, and everything in it, for granted and seems generally ungrateful. It isn't until he meets Becky that he realizes there's more to life than what he set for himself. In the beginning of the movie, he's pretty soulless and seems unsatisfied with his life, but feels there's nothing he can do about it. He also is dissatisfied with his family. He doesn't seem to like his siblings and is embarrassed by his mother, often making her the butt of the joke to the town children. However, over the course of the movie, Gilbert learns to appreciate and love his family. 
Johnny Depp gives an outstanding performance as the title character.  Leonardo DiCaprio and Darlene Cates also give phenomenal performances as Arnie and Mama, with DiCaprio earning an Oscar nomination for his performance.
This movie had an impact on me because I'm from a very small town, so I understand the feeling of being trapped in the middle of nowhere with nowhere to go. It also has universal themes everyone can relate to, such as achieving your dreams, learning to love, and finding the positive side of life. I recommend this movie to anyone who is willing to watch a somewhat somber movie and come out the other end with a more philosophical perspective on life.
About the Writer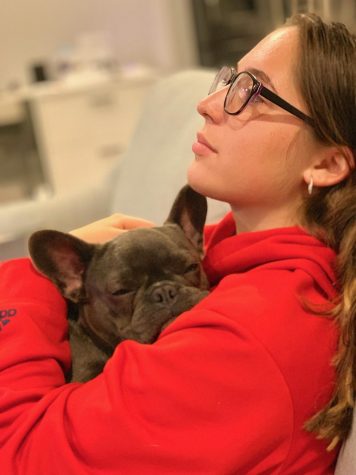 Jordyn Rouleau, Staff Writer
My name is Jordyn Rouleau, and I am a sophomore at Carolina Forest High School. I spend most of my free time reading, writing, watching movies, or practicing...