CFHS 2021 Football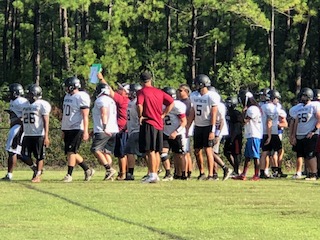 In recent history, the Carolina Forest Football program has had a large amount of success, led by Head Coach Marc Morris who joined the team in 2014.  In the first years of coaching, Morris slowly built the program's reputation and success. The Panthers led by Morris made their first playoff appearance. More recently in the 2019 season, the team made it all the way to the 5A Lower State Championship.
The upcoming 2021 season brings many questions to the program after losing a huge number of seniors who are going to college to play ball. We have many rising seniors eager for their chance to prove that Carolina Forest football is here to stay. With many previous underclassmen filling the shoes of the seniors who left, Carolina Forest has lots of depth at every position with people fighting for a starting position.
We need to keep working hard and stay in the weight room.  I think we'll have a great season because our defense is looking really strong, and we come together great as a team," shares Ethan Hamilton, a freshman.
Coach Morris also adds, "I am looking forward to everything getting back to normal both on the field and during the school day. I missed having the opportunity to be around our players during the school day and the majority of the summer. The spring football practice season went well. The guys worked extremely hard and improved each day we were out there. The summer practices will begin June 21 and continue through the beginning of school. They are looking forward to a successful season and are ready to put the time and effort in this summer."
As the Panthers look to keep the winning seasons going, they will face off in Shallotte, North Carolina on August 20, against the West Brunswick Trojans at 6:00 pm in a non-region game.