Is Greta Van Fleet the New Led Zeppelin?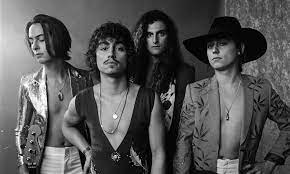 Greta Van Fleet is an uprising band gaining fans and followers through TikTok. Originating from Frankenmuth, Michigan, the band consists of brothers Jake, Josh and Sam Kiszka, and high school friend Danny Wagner.  They have recently gained attention amongst TikTok and Twitter users. The group was founded in the Kiszka family garage in 2012 when lead singer Josh Kiszka discovered his passion for the Mick Jagger-style of singing. 
The group originated with a blues-rock genre that ventured into the classic rock genre but with a modern twist. The group was first signed to Lava Records in 2017 and released their first studio EP, Black Smoke Rising. They released their first full studio album in 2018 titled Anthem of the Peaceful Army. The debut of the album showcased the similarities between the band's music and the art of classic rock band, Led Zeppelin and artist Janis Joplin, allowing for listeners to capture the nostalgia and carefree emotions. 
Greta Van Fleet has been able to send listeners back in time with their music and the recent release of their 2021 album, The Battle at Garden's Gate. The band has gained popularity among those who classify themselves as "hippies" and "old souls." 
Junior Daniella Lawson preaches her interest in the band and the emotions she experiences when listening. "They make me feel like I went through a time machine to the 1970s. I imagine I'm cruising down the highway in a Thunderbird, singing the lyrics." 
While many listeners have been captured by their distinct sound in a society filled with hip-hop and pop, Greta Van Fleet's obscure lyrics and demanding vocals have even caught the attention of Generation X. 
The parents of Gen Z  have found themselves entranced by the band's distinguished sound and genre, causing memorabilia to their childhood and the 1980s. 
"They remind me of every band I listened to in college," says Conway Elementary teacher Amy Herrera. "It is truly wonderful to hear that [music] in a normalized setting." 
The comparison to the band Led Zeppelin began after Greta Van Fleet's first studio album, Anthem of the Peaceful Army released. They have since then been recognized by former Led Zeppelin singer and guitarist Robert Plant as "embody[ing] the music of Led Zeppelin l." 
Greta Van Fleet is currently touring throughout North America until the beginning of November.  
Sources: "Vanity Fair" Magazine, "Rolling Stone" Magazine