Social Media's Impact on Teenagers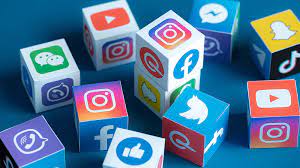 Liam Kenny, Staff Writer / Media Production
May 10, 2022
It is no mystery that technology and social media have become a huge part in the life of a teenager. Social media is useful for many different things: talking with friends, promoting events, learning about things going on around the world and creating new friendships.
Some of the most popular social media platforms are Instagram, Snapchat, Tiktok, Facebook and Twitter. Each one of these is special and unique in its own way.
Instagram was released on October 6, 2010 and is popular for photo-sharing and social networking applications. According to statistica.com, within a short period of time, Instagram has achieved billions of users worldwide, especially among millennials and Gen Z. Something interesting about Instagram is that every single second, around 995 photos are uploaded to this platform!
Joshua Williams, a senior, prefers Instagram over other platforms. 
Williams shared, "A lot of my friends are on Instagram, and I follow many pro athletes to check on their progress and to see how they train so I can model my training."
Snapchat was released on July 8, 2011 and is popular for talking to friends, sharing photos and experiencing the different lenses and filters it features. According to stastitica.com, as of the 4th quarter of 2021, Snapchat had 319 million daily active users around the world. The previous number of users was 306 million, which was reported in 2021. An interesting fact about Snapchat is that its original name was Picaboo.
Bayli Soles, a senior, uses Snapchat to text her friends and see what people are doing. Snapchat has also affected her in both positive and negative ways.
Soles stated, "I find myself on Snapchat more often than I would like to, but I also like it because it has kept me in contact with some people that have moved away."
Tiktok was released in September of 2016 and is used mostly by young people as a way to express themselves through singing, dancing, comedy and lip-syncing. According to statistica.com, 1 billion users were reported using Tik tok in September of 2021. That is much higher than 689 million which was reported in July of 2020. It is by far one of the biggest social networks worldwide! 
Junior Giana Volpe likes how Tiktok is personalized to an individual's interest. It has even affected her in a positive way as well!
Volpe commented, "This platform has actually taught me a lot of things that help make life easier!"
Facebook was released in February of 2004, which allows users, who sign up for free, to connect with friends and other people they don't know. It also allows users to share pictures, music, videos and articles. According to datareportal.com, Facebook has 2.912 billion monthly active users. Something interesting about Facebook is that it is the 7th most valuable brand in the world!
Twitter was released in March of 2006 and can be used to receive news, follow high-profile celebrities and stay in touch with old friends. According to statistica.com, Twitter had approximately 290.5 million users as of 2019. Something interesting about Twitter is that it took three years, two months, and one day to get to their billionth tweet!
Social media is a major part of our lives. It influences the decisions we make, the way we feel about things and the way we live our lives on a daily basis. However, we should not allow technology and social media keep us from what is most important: spending quality time with the ones we love the most, (as well as completing school work)!