River Island Adventure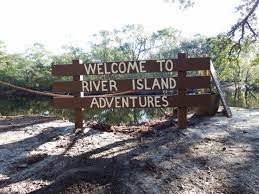 Horry County is widely known for the amount of historical rivers and waterways that run for miles and miles. Many families enjoy a day out on the water, some going rafting, kayaking or tubing. There are also many places that offer lots of water fun, including River Island Adventures.
River Island Adventures in North Myrtle Beach is a unique getaway, where you can truly relax and escape into nature. They have a wide variety of exciting activities including Escape River Island, Castaway Challenge and Survive River Island. For relaxed, overnight stays, there are campsites, glamping tents, and tree houses soon to come.  
The challenges are part Survivor, part Amazing Race, and part Escape Room. Their most popular, Escape River Island, is six teams of two where they compete in 10 Survivor-like challenges. 
One of their biggest challenges is Survive River Island. Fourteen people are split up into two tribes on the island, where they stay for three days/two nights and vote someone off every couple hours. The last remaining player wins a $3500 prize package, including a 5 bedroom oceanfront home in Myrtle Beach for four nights, plus a $500 cash prize. 
Owner Jeff Kline, is living out his dream on the 48-acre island offering fun times to anyone who comes along. His dream started on a trip to the Edisto River, where he stayed in a treehouse with his best friend. He realized they needed a place like that in Myrtle Beach, and he was going to make it happen. 
Next time you need a weekend getaway, River Island Adventure is the place to go!