"Wednesday" Review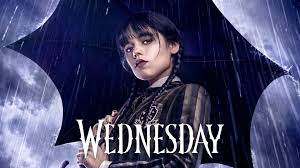 In 1964, "The Addams Family," a horror-comedy series premiered. It was something never seen before on TV that captivated viewers. Morticia and Gomez Addams, along with children Wednesday and Pugsley, lived a disturbing and supernatural way of life. There have been many remakes of the series, some even creating more profit and popularity; for example, the 1991 release "The Addams Family" grossed almost two hundred million dollars.  
However, the newest remake has broken more records than you would expect. "Wednesday" was released on Netflix on November 23 and  passed "Stranger Things 4" (335.01 million), with 341.23 million hours watched in one week. Many famous actors like Catherine Zeta-Jones, Luis Guzman, and Gwendoline Christie are featured in the series. Christina Ricci, who played Wednesday Addams in the 1991 movie, was even brought back as a major character in the show.
Wednesday, the morbid and impassive teenager, played by Jenna Ortega, gets expelled from yet another school and put into Nevermore Academy. The academy is for students with extraordinary abilities, where Morticia and Gomez first met. The parents hoped it was the place for Wednesday, where she could finally fit in somewhere. But when she realized she inherited her mother's physic abilities, she helped solve a local mystery.
Paul Tassi, with "Forbes" commented, "Jenna Ortega had a pretty astonishing performance, her interpretation of the character was what made the show work. Her acting methods are already the stuff of legend, where it said she reshot any scene where she blinked, and choreographed her own dance scene."
Creative Writing teacher Ann Twigg, shares, "I grew up watching the original "Addams Family" and became intrigued when my students informed me how good "Wednesday" is.  After watching two episodes, I have to admit I enjoyed the articulate banter and interesting, new characters.  It reminds me a bit of the "Harry Potter" series, only with an ominous, dark-humored twist.  I wouldn't call myself its #1 fan, but I am invested enough to finish Season 1." 
The new series truly shows how Wednesday Addams should be portrayed. If renewed for a second season, there is no doubt that it will  be just as good, if not better than the first.