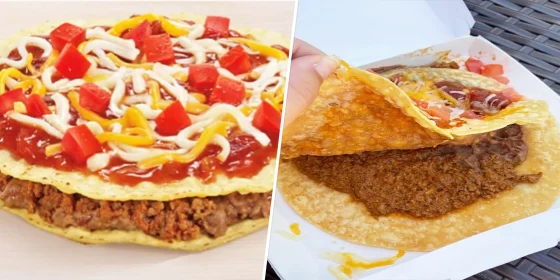 Taco Bell is among one of the top favorite fast food chains for many. Its praise may be because of their advertisements or, of course, their food; however, is the food being served meeting the quality of what's presented in advertisements? 
On August 1, 2023, New Yorker Frank Siragusa did not think Taco Bell fulfilled his expectations after watching an advertisement on Taco Bell's Crunch Wraps and Mexican Pizzas. This caused him to file a class-action lawsuit against the company for falsely advertising the abundance content in his meal.
The lawsuit was specifically related to the attached images to their advertisement on Taco Bell's official website, where Siragusa saw and ordered the meal.
Upon ordering another meal called the Mexican Pizza, it allegedly faced the same issue. According to the lawsuit, the Mexican Pizza "… contained approximately half of the beef and bean filling… [Siragusa] expected."
Siragusa's attorney, Anthony Russo, also had a history of suing fast food chains. In April 2022, he sued Burger King for falsely advertising their food. Anthony, according to this lawsuit, claimed that Whoppers were "smaller in real life than they appear in advertisements." Because of familiar backstories, he was quick to defend Siragusa as an attorney. 
Siragusa is currently looking for someone who ordered three of Taco Bell's Vegan Crunchwraps "during the period between July 31, 2020, through the date of the final disposition of this action." If he were to find someone who fits the description, Taco Bell could be responsible for a minimum of $1,500 in compensatory damages.
According to fellow CFHS students, the contents of Taco Bell's food does not meet their expectations, either.
"Taco Bell is alright," CFHS sophomore Subee Vongsavanh claimed. "It's not as cool as the advertisements say it is. The taco meat is much flatter and there isn't enough meat Photcompared to the advertisements."
"I think the tacos don't have enough meat," Michaela Yock, another CFHS sophomore, added. "… Everything else is fine."
Despite the controversy regarding their advertisements, Taco Bell remains one of the top choices for thousands across the country.
Photo Source: Comparison from Siragusa's lawsuits, presented from Today.com
Links used:
www.today.com
www.fox2now.com