Student Council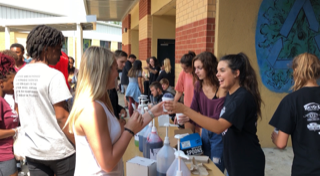 Lilly Hortis, Co-Editor
October 2, 2019
As mentioned in previous article https://cfhsprowler.com/5625/uncategorized/club-rush-in-the-forest/ there is an abundance of clubs offered at Carolina Forest High School. We have everything from Future Farmers of American to Table Top Board Games Club. One of my favorite clubs to be a part of is Student Council. 
The head sponsor of Student Council is Mrs. Morgan Bane  
Bane comments, "Student Council helps create the memories of high school that you'll have 20 years from now. You may not remember your 9th-grade algebra class, but you'll definitely remember things like Homecoming Week, Sweetheart Week, and other fun events throughout your high school experience."
One good thing about Student Council is that anyone can join. Although there are executive positions, anyone can be a class representative. Executive officers run for office and then are voted on by the student body. This year's executive officers are the following:  
Student Body President: Abby Kerwin

Student Body Vice Presidente: Katie Kulick

Senior Class President: Alexa Beale

Senior Class Vice President: Hunter Corriel

Junior Class President: Ashtyn Perry

Junior Class Vice President: Emma Hamilton

Sophomore Class President: Jess Arambula 

Sophomore Class Vice President: Evan Duff

Freshman Class President: Layla Humphries

Freshman Class Vice President: Kaitlyn Doyle
Student Body President Abby Kerwin states that her favorite thing about Student Council is "organizing our events and helping to make our school more fun."
Alexa Beale, senior class president, adds, "Homecoming is rewarding because  it really makes you feel involved and makes you feel like you have done a lot for the school during the week." 
Student Council has many responsibilities. A few of the things they plan are Homecoming Week, Sweetheart Week, class meetings, fundraisers, and charity events. During these events, each grade level has teachers sponsors who are there to help and support them. 
12th grade: Jenna Mason & Amy Perry

11th grade: Meghan Norris 

10th grade: Camille Edwards & Krysten Elliot

9th grade: Krsiten Kilhenney & Laura Nobles
Senior sponsor Mrs. Jenna Mason says, "What I love most about being a Student Council sponsor is the ability to connect with students on a personal level and build relationships with students who aren't in my classes."
One of the hardest but most rewarding parts of Student Council is Homecoming Week. So much goes into planning Homecoming. Student Council has to plan everything from dress-up days, lunch games, pep rallies, and each class's themes. 
Freshman class president Layla Humphries encourages everyone to get involved because "it has brought me close to many people, not just in my grade but other people I see around school. I have made new friendships and rebuilt old ones. I'm really thankful for the opportunity and to be a part of it."
Student Council is a great way to meet new people and become more involved  in our school.