A Memorable Meeting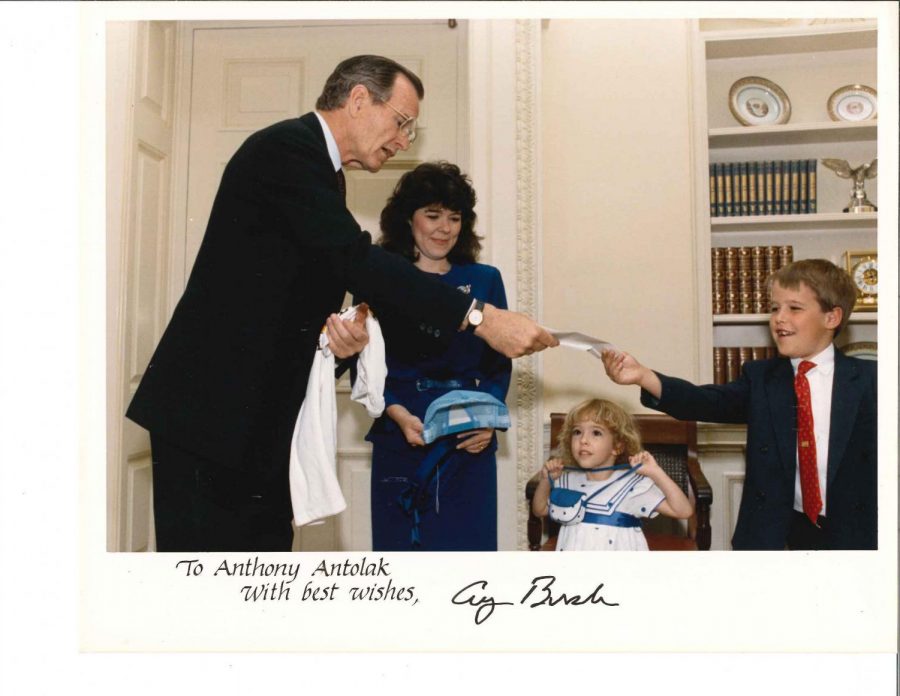 Caelia Allen and Haylee Adkins
January 7, 2019
George H.W. Bush, the 41st U.S. President, recently died on November 30, 2018, holding the record for the longest living U.S. President. President Bush had joined the U.S. Naval Reserve from 1942 to 1944 as a torpedo bomber pilot in World War II. He won the Distinguished Flying Cross for his service and was elected as a U.S. House Representative in 1966. President Bush served as Ronald Reagan's Vice President for two terms and then won the Presidential race in 1988.
"The two proudest accomplishments of Bush's presidency were the passage of the landmark Americans with Disabilities Act (the ADA) and the successful prosecution of the war to liberate Kuwait from Iraqi occupation," states the Academy of Achievement. "This effort saw the U.S. leading a grand coalition, including Arab countries which had long distrusted the United States. This experience of cooperation led to a renewal of the stalled Mideast peace process."
One of our fellow teachers, Anthony Antolak, had the pleasure of meeting President Bush when he was younger. His younger sister was the poster child for muscular dystrophy in 1980 and their family was invited to the White House for funding of the Muscular Dystrophy Association (M.D.A.).
Antolak visited the White House for two years since his family was invited to all the groups donating money to M.D.A. "The White House and Oval Office are surreal places to visit, even though I was only eight-years-old. I was really fortunate to travel the country and meet President Bush."
Antolak's most memorable moment from the visit was his talk with the President about baseball. President Bush, a former baseball player himself, started the conversation and seemed genuinely interested in talking to young Antolak. He was also able to see the President's dog Millie and her puppies with his sister. Antolak gave President Bush his elementary school's jersey as a gift.
Antolak found his inspiration to study and teach U.S. Government from meeting the President. His biggest takeaway from their meeting was how humble and personable President Bush was to him and his family by dismissing "all the decorum rules."
This is one meeting Antolak will remember for eternity. He and his family will be forever grateful to the President for all he has done for them.