The Tragedy of Australian Bushfires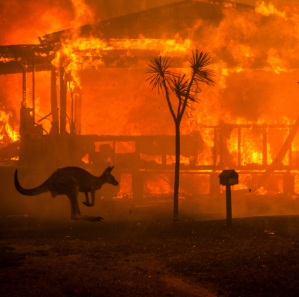 Sophie Gamble, Staff Writer
January 10, 2020
Global warming has taken over and pushed various animals out of their natural habitats. This is such a scary thing regarding the safety of us. Recently Australia has been hit by a combination of 104° F temperatures and strong winds that brought deadly bushfires. 
Mammals in Australia are at risk of a scary future. Many are being forced out of Australia without anywhere to go. According to Equire.com, as of now, there are 480 million mammals dead out of Australia.
Kelli Puusepp, an English teacher at CFHS, says, "I was shocked to find out about the bushfires. They have caused so much heartache to the citizens of Australia. I still hold faith in humanity because of their efforts in saving the animals and their homes." 
Every Australian state has been affected by the bushfires, especially New South Wales. This severe and devastating fire has been occurring since September, killing at least 20 people and destroying 1,500 homes. It is still unpredictable when these fires might end.
The fires have taken an emotional toll on the citizens as well. People are being left without anywhere to live, fleeing to Sydney for safety. 
There are many risk factors coming along with the fires, such as the extinction of ecosystems and a threat to the world's food supplies. With almost half a billion animals dying, we are on our way to a possible sixth mass extinction. 
On a positive note, according to Prime Minister Scott Morrison, approximately $1.4 billion has been donated to help tame the fires. Along with government support for the first time since 2010, the US is sending firefighters down to Australia to help fight off the bushfires, as well as Canada who is sending firefighters for the first time ever.
Bindi Irwin, daughter of the late wildlife conservationist, Steve Irwin, announced recently that the Irwin family has saved up to 90,000 animals out of Australia, their homeland. 
These bushfires are being recognized by people all over the world. Members of the Royal Family say their "thoughts and prayers" are with all who have been affected, along with actors Cate Blanchett and Russell Crow, who highlighted the tragedy during their Golden Globe speeches. Many celebrities, such as Keith Urban, Nicole Kidman, Chris Hemsworth, and Pink have given an abundance of donations to help with this effort. 
Also, people all around the world have been knitting blankets, making them like protective pouches, for animals who have lost their homes. ways to donate to Australia include:
Listed below are sites that we can utilize to help:
www.wires.org.au
www.koalahospital.org.au
www.redcross.org.au
www.cfa.vic.gov.au
www.givit.org.au
www.cfsfoundation.org.au