The Office Review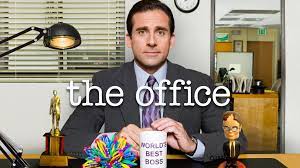 After a long day of work or school, many of us enjoy sitting down to watch their favorite television shows. The Office, a sit-com produced by NBC is one of my favorite comedies. The show consists of nine seasons and features a wide range of characters who play the roles of everyday office workers. Previously, the show was on Netflix streaming services, but NBC bought out the show's contract to put it on Peacock streaming services. The show can also be found on cable television on the Comedy Central Channel. 
Boss Michael Scott is a procrastinator who loves to joke around the entire show while getting no work done and distracting his workers. The Office has many pivotal characters who make the show what it is. Characters such as Dwight, Jim, Pam, Michael, and many more all portray the typical office worker, yet with a comedic light that everyone enjoys.
 I enjoy the comedy and the relationship between Michael and the rest of the characters in the show. The reason the show thrived and did well for nine seasons is because of the mood that the show creates between viewers and characters in The Office. There is a sincerity that I liked about the show that you feel like you know the characters well, so when something negative occurs, you hope nothing happens to the people you like in the show! 
Michael in particular is the funniest on the show to me and is always getting in trouble with corporate which he always seems to be getting in trouble for something hysterical. Many comedy shows are good but do not compare to what The Office created with the feeling between how well the fans know the characters. If you ever need a new show to watch or binge, The Office may be for you if you enjoy comedy!
About the Writer
Max Stefanchik,
I am Max Stefanchik, a sophomore at Carolina Forest High School. I have a passion for sports and writing. This is my first year on The Prowler Staff. After...