Success in the Forest this Fall!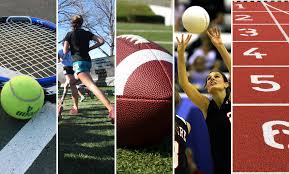 It has definitely been an exciting fall in The Forest.  Our sports teams have been on a roll with an abundance of wins and state qualifiers.  All the players and their coaches have put forth much effort with lots of hard work and teamwork.
Our Varsity Girls Tennis team is on top of the world with winning the 5A State Championship.  This is a historical moment for the girls and their coach, Alexis McNabb, who just joined Panther Nation this year. 
McNabb shares her take on the team's recent success.
"Finishing the season with a perfect record was honestly icing on the cake for me but winning States just made the whole thing that much sweeter."
Katie Godfree, an eighth-grader who goes to Ten Oaks Middle School, is ranked #2 on the varsity team.
Godfree shares, "One of my favorite parts of the season was when we were in the Lower-State Championships playing Wando and the number one, two, and second team doubles had won and we only needed one more court to win for us to go to state and three, four, and five went to third set tie breakers and all three of them won. It was so exciting and nerve racking."
Clearly, the tennis team's recent victories are the result of committed effort. We congratulate them on all of their hard work.
Cross Country has put their utmost effort into making it to states this year. The Boys team landed the 8th spot in State Qualifiers and advanced to the SCHSL AAAAA State Championships, finishing in 14 out of 16 teams and defeating two teams that had originally beaten them in Qualifiers. Avery Bender qualified individually at State Qualifiers, landing the 18th out of 20th place and advanced to States, finishing in 39th out of 118.
The girls and boys swim team went very far this season. The boys team has been region champs for the third year in a row. The girls were second in the region, and the boys were first in the region. The individuals who qualified for states include Nick Kowalczyk, Alexander Kuznetsov, Andrew Neculai, Saman Vitharana, Dominique Ulmer, Arika Boudreau, Ella Habib, and Chandra Robideaux.
Brianna Griggs, a senior varsity girls swimmer, share, "My favorite part was how close we were as a team we cheered for each other every meet and at practice."
Our cheerleaders had a great competition season by placing in the top 20 at the state qualifier round this past Saturday.   They will continue supporting our Panthers during basketball season.
Bayli Soles, a senior cheer captain, adds,  "This is the best season we have had in a long time. It is so great to see these girls' faces light up when we hit our routine. Having this team come together and compete as a family and give it our best. We have never made it to states as I know of and we had a feeling we could really make it there if we put everything we had on the mat."
The Varsity Girls Volleyball team became region champs back in October and also made it to the third round of the playoffs. All the long hours of practice and constant communication on the court definitely paid off.
Hailey Clayworth, a sophomore varsity volleyball player, reflects on the season: "Overall I think we did really good; we worked well as a team and went farther in playoffs than we ever have done before."
Girls golf made it to states this season with a "well put together, hard working, loving team," says sophomore Sarah Protz.
We would like to also congratulate football for their season this year as they made it to the first round of playoffs and worked very hard this fall.
Overall, we are so proud of all of our fall sports and can't wait for future seasons as well as new sports to start this year!