Spring Art Show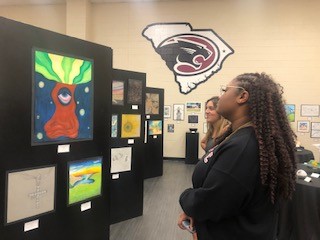 Carolina Forest High School recently hosted our Spring Art Show with an inspiring gallery that celebrated the talent and creativity of our students. The event provided a platform for artists to showcase their diverse range of artwork, captivating visitors with their skills.
The exhibition featured an impressive display of artwork, including paintings, sculptures, photography, and mixed media creations. Each piece showcased the students' dedication, hard work, and artistic growth throughout the year.
The walls of the community room  were covered with vibrant paintings that explored various themes and styles. From stunning landscapes and expressive portraits to abstract compositions that challenged the viewers' perceptions, the paintings demonstrated the students' abilites to convey their emotions and narratives.
 Mrs. Abigail Dew, the National Art Honors Society advisor, shared, "We were so happy with the way that our Spring Art Exhibition turned out. We had almost 200 works of art displayed from all grade levels. Thank you so much to everyone who came out to see the show!"
The three-dimensional art installations and sculptures added depth and dimension to the exhibition. The students experimented with different materials, including clay,copper,aluminum wire.
The Art Honor Society inducted Enjoli Allen, Haylie Fackler, Kalli Gavrilis, Sydney Henderson, Emma Kirchner, Denaia Merriweather, Kerstin Webb, Payton Yates, Madeline Adelstone, Madison Aherne, Helina Brown, Roxanne Burch, Fernanda Coffin Prieto, Rachel Durkin, Amelia Earl, Aliyeah Granberg, Dorothy Hamrick, Macie Iagulli, Jessica Lyons, Jaden Palmiert, Jamia Richmond, Lila Wichman, Lillian Catton, Caroline Cooley, Sophia Magrini-Perez, Zung Mawi, Mia Naples, Sally Pham, Mackenzie Priest, Payton Young, Aiden Zbel and Fernanda Zubieta. The returning members are Ricky Boudreau, Roxanne Burch, Maya Elbadawy, Adriana, Guardiola Huertas, and Ani Harris.
 There was amazing digital photography in the Art Show. Their pictures showcased the students' technical skills, as well as their ability to capture the essence of their subjects.
 Overall winners:  Sally Pham received first place with Picture Day, followed by Sophia Magrini Perez who won second place with Panic. Fani Velazquez was awarded third place with Untitled. Emma Kirchner won People's Choice with Bedtime. Cailey Martin won for the 3D People's Choice with Heisenberg, and for digital photography, Vanessa Scotti won with Landslide.
Junior Fani Velazquez, one of the winners, said, "Every time you put a good effort on something, there will always be a reward at the end."
The Art Show showcased the students' exploration of mixed media, where they skillfully combined different artistic techniques and materials to create visually stunning and thought-provoking pieces.